Brexit Secretary David Davis lazy, inept and close to BBC, ex-aide claims in Twitter tirade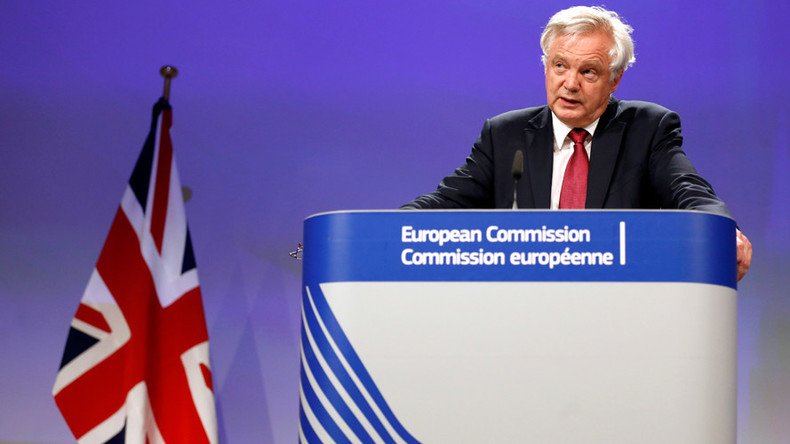 David Davis' former aide has launched a Twitter tirade against the Brexit chief, claiming he is "drunk, bullying and inappropriate" and had been "working a three day week since day one."
In a stream of early-morning tweets, James Chapman made a series of claims about the man leading Britain's negotiations to leave the EU.
He made the accusation that Davis "leered" over Labour MP Diane Abbott while allegedly "drunk" and that he keeps former UKIP leader Nigel Farage on "speed dial."
He also claimed Davis got easy rides in BBC interviews because he had close relationships with top presenters, and conducted extraordinary outbursts against foreign leaders.
While Davis was doing a series of interviews on breakfast television and radio on Tuesday morning, Chapman called for Remain-supporting MPs "of honor" such as Chancellor Philip Hammond, Jeremy Hunt, Justine Greening, and Sajid Javid to quit the cabinet.
Chapman also suggested Davis would never prep for Radio 4 Today programme interviews with presenter John Humphrys because the two were close to the extent of going on "holiday" together.
Davis was in February branded "disgusting" By Labour MPs after a leaked text message showed he had suggested Diane Abbott was not attractive enough to kiss.
A spokesperson for Davis at the time said he was sorry for any offence caused and that the message was a "private exchange with a friend."
Commenting on the episode on Tuesday, Chapman tweeted: "I was with David Davis when he leered over Diane Abbott. He was drunk, bullying and inappropriate."
Chapman also recounted two of Davis's outbursts at foreign leaders.

"Someone should ask David Davis about the time he told horrified Slovakian PM 'if you think we are going to pay so you can sell us your cars, forget it.'"
He added: "Someone should ask David Davis about the time he called [EU negotiator] Michel Barnier by mistake thinking he was talking to a far-right friend."
Chapman added that Davis and Prime Minister Theresa May "don't have the first idea about what they are doing," and that his ex-boss was lying when he claimed the UK will "probably" not have to pay to access the EU customs union in any interim trade deal.
Davis responded by saying: "James was a 'Remainer' from the beginning, but he was a very good Chief of Staff. I am not going to criticize or argue with him [on air]."
Chapman served as Davis's chief of staff until around a month ago. He is the Daily Mail's former political editor and was a senior adviser to former Chancellor George Osborne before becoming Davis's chief of staff.
He quit the government before June's general election and now works in public relations.
You can share this story on social media: