British glamor model describes her kidnapping by 'sex slavery gang' in Italy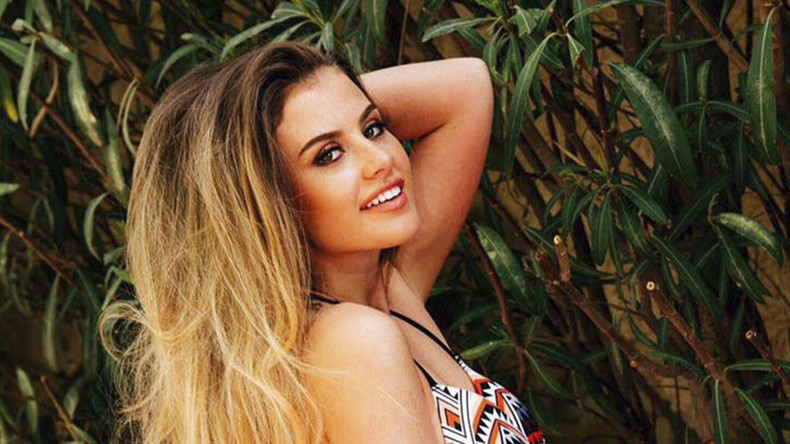 A British model, who says she was kidnapped in Italy and told she would be auctioned off as a sex slave on the dark web or "sold and fed to tigers" unless a ransom was paid to a criminal gang, has spoken out.
Police in Milan say Chloe Ayling, 20, was abducted on July 11 after arriving in Milan for what she thought was a photoshoot arranged through her agent.
Upon reaching the studio, however, the mother-of-one claims she was assaulted and drugged with the horse tranquilizer ketamine, dumped in a car trunk, and driven to a remote farm where she was kept prisoner for six days by a man who said he was part of a gang called Black Death.
Ayling told Italian police she was kept handcuffed to a wooden dresser in a bedroom until she was released on July 17 and taken to the British Consulate by Lukasz Pawel Herba, a British resident born in Poland.
He has been arrested on suspicion of kidnapping her and threatening to auction her as a sex slave on the dark web unless a ransom of £270,000 ($300,000) was paid.
Ayling, who is now back at her home in Coulsdon, south London, told Rai News outside her home: "I've been through a terrifying experience. I feared for my life second by second, minute by minute, hour by hour.
"I'm incredibly grateful for the Italian and UK authorities for all they have done to secure my safe release. I have just arrived home after four weeks of being in Italy and I haven't had the time to gather my thoughts.
"I'm not at liberty to say anything further until I have been debriefed by the UK police."
Earlier, Ayling told Italian newspaper Corriere Della Sera that her abductor said she would be sold outside of Europe.
"He [one of the alleged kidnappers] told me… that he alone had earned more than €15 million (£13.5 million) in the last five years and explained to me that all the girls are destined for the Arab countries."
She said she was told that at least "three [women] a week are sold, and when the person gets bored of her he gives her to other people.
"When they're no longer interested they feed her to the tigers."
Black Death, the organized crime group suspected of her kidnap, claimed they released her after finding out she has a two-year-old child, Italian police say.
Investigators said they found a letter after searching a computer belonging to the gang, which read: "You are being released as a huge generosity from Black Death Group. Your release does, however, come with a warning and you should read this letter very carefully.
"You are certainly aware of your value on [the] human slavery market and must make a note that this isn't personal, this is business. For your release, we have taken a number of factors into consideration.
"A mistake was made by capturing you, especially considering you are a young mother that should have in no circumstances been lured into kidnapping."
The group warned her not to talk about them with "bad language" and said it "will not tolerate lying about anything that has happened."
A spokesperson for West Midlands Police said an address in Sampson Close, Oldbury was raided on July 18 in connection with the inquiry.