Student who posed online as a fake MP speaks to RT after being kicked out of Labour Party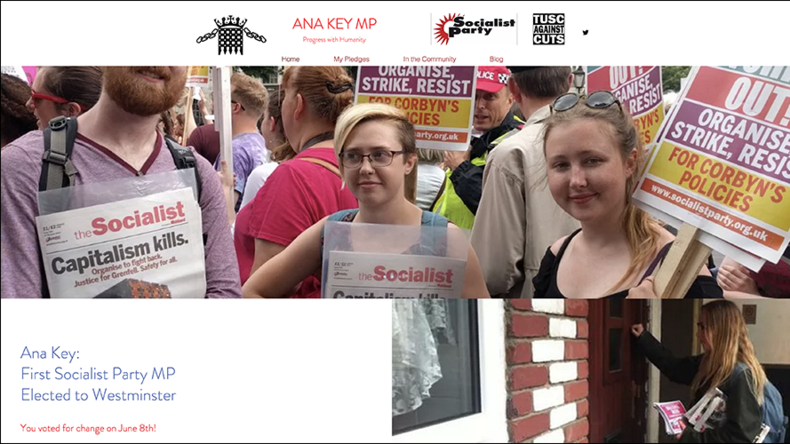 An art student who was reported to police and expelled as a member of the Labour Party after posing as a fake MP for an assignment told RT about the importance of her project.
Ellen Kenyon Peers, studying at Goldsmiths, University of London, claims she was working on a conceptual project when she disguised on Twitter as a Socialist Party MP for for the non-existent constituency of Deptford and Greenwich.
Peers- who used the name 'Ana Key', a pun to 'anarchy', for her fake profile-posted a series of tweets offering help to constituents and listed surgery times on a website that featured the House of Commons' portcullis badge, which is strictly regulated and licensed by the Queen, alongside logos of the Socialist Party and the far-left Trade Unionist and Socialist Coalition (TUSC).
Her stunt backfired, however, when the website was reported to police by Vicky Foxcroft, the Labour MP for Lewisham Deptford. Foxcroft said the project was "extremely irresponsible."
"As an MP I deal with thousands of constituents with emergency cases, some of them about very serious issues on housing or immigration," she told the Telegraph.
"If they were to attend the advice surgeries that have been advertised on the website … it would be a breach of data protection and could cause harm and delay to constituent's cases - many of which are extremely sensitive."
She defended her project saying the aim- namely posing as an MP and responding to people- is "much more important than the finished product".
The 24-year-old art student added that the surgery hours were there to be seen by her examiners and those directly involved in the project, adding that that had been the case until a "right-wing journalist snatched on to it."
She then apologized if they "were left up after that period of examination", but defended herself, however, as she argued that no constituent had contacted her, and that if they had, she would have "directed them to their MP" and told them the profile was actually fake.
If the pun in her name is overlooked, as well as the fact that the constituency is only due to come into being in the next election, and forget that no politicians in the Commons currently represent the Socialist Party, the website looks rather convincing.
It shows pictures of Peers campaigning, her slogans - "Struggle. Solidarity. Socialism" - blog posts and a contact form. It also calls her the "First Socialist Party MP Elected to Westminster" and includes prominent links to the Socialist Party and TUSC's website.
Her posts include calling for Prime Minister Theresa May to step down, and pledges based around anti-austerity.
In a statement under Ana Key's name posted on her Twitter account, which has since been suspended, Peers said:
"With regards to whether or not someone may have mistaken me for their MP: if people don't know who their MP is immediately after a general election (when the art project was launched) we have a serious problem on our hands."
She added that the quotes on the website are real and reflect the concerns of those living, working and attending college in the area.
"This demonstrates that sitting MPs are not dealing with issues that affect residents. Why aren't local MPs fighting against benefit cuts? Building social housing? Rejecting austerity? Defending local schools from incredibly damaging cuts? Championing our NHS and demanding more funds for it?"
In a statement, the Socialist Party said it "opposes the heavy-handed actions of Vicky Foxcroft and the Labour Party bureaucracy." It added: "Rather than policing artistic expression, they should take up the urgent class issues their fictitious colleague champions."
Since Ana Key was exposed, she has been invited by the Socialist Party to speak at its Socialism 2017 conference.
RT has request comment from Peers, but she is yet to respond.