Ken Livingstone blames US for Venezuela's economic collapse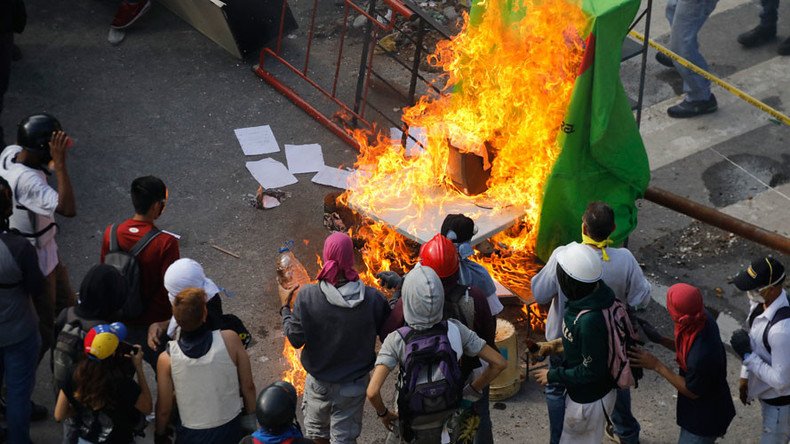 Meddling by the US and the "establishment elite" has contributed to Venezuela's economic demise, according to former London Mayor Ken Livingstone, who has voiced his support for President Nicolas Maduro and the nation's Bolivarian Revolution.
President Maduro has claimed victory in a vote – condemned by critics as a sham – for a constituent assembly that is expected to hand his ruling Socialist Party more power. Opposition politicians boycotted the ballot and millions of Venezuelans shunned the process.
International condemnation of the latest vote has been widespread. A wave of anti-government protests has left more than 120 people dead over four months, and Venezuela's 30 million citizens are suffering shortages of basic goods and medicines as the country's weakened economy declines even further.
Asked by The Times if he supports Maduro and the Bolivarian Revolution, the leftist political revival initiated by the late President Hugo Chavez, Livingstone said: "Oh God, yes."
He said Venezuela's economic issues stem in part from the country's reliance on its oil reserves, which made it vulnerable to plunging oil prices, but that other factors have played a part.
"Hugo Chavez did not execute the establishment elite, he allowed them to continue so they're still there. I think there's a lot of rumors they've been blocking the important food and medicines and things like that, because they control a lot of the companies," he told the newspaper.
"And America has a long record of undermining any left wing government as well. So I suspect it's not all just down to the problems of the [Venezuelan] government."
The US, which is gripped by allegations that Russia sought to interfere in the 2016 presidential election, has a long history of interfering with democratically-elected governments in Latin America.
The 2002 Venezuela coup, which saw Chavez briefly removed from power, was followed by allegations of US involvement and resurrected fears about the country's ambitions in the region.
After the coup, Chavez asserted numerous times that US government officials knew about plans for the coup and approved of them.
This was backed up by declassified intelligence documents in 2004 that showed the CIA and the administration of George W. Bush had advance knowledge of the coup. They also contained evidence that just weeks before Chavez was arrested, White House officials had met with Pedro Carmona, the business leader who took over the interim government after Chavez.
Bush denied any involvement.
Efforts by the US to intervene included distributing funds to opposition groups through its National Endowment for Democracy, which was set up in 1982, purportedly "dedicated to the growth and strengthening of democratic institutions around the world."
In 2014 alone, the foundation gave $2.3 million to organizations operating in Venezuela, ostensibly for things such as training in the use of social media and the monitoring of human rights. However, cursory examination of grant recipients, according to TeleSur, shows the money mostly went to groups opposing the democratically-elected government of Maduro.
Last week, Maduro told RT Spanish the US must abandon its interventionist policy towards Venezuela and steer clear of the internal affairs of other Latin American countries. He called on US President Donald Trump to put an end to his administration's "aggressive" policy towards the Venezuelan government.
Last week, the Trump administration announced sanctions on 13 current and former members of Maduro's administration, freezing their US assets and barring Americans from doing business with them. It has since also slapped sanctions on Maduro.
The US government said it is considering further sanctions, including restrictions on Venezuelan oil imports, a potentially devastating blow to Venezuela's economy.
Madura said the US had repeatedly tried to disrupt Venezuela's economy with an "indirect blockade" targeting the country's financial system. He said, however, Venezuela has "economic power, economic capability," and is ready for "any scenario."
On Sunday, the US State Department said it stood "by the people of Venezuela and their constitutional representatives in their quest to restore the country to a full and prosperous democracy."
It said it would "continue to take strong and swift actions against the architects of authoritarianism in Venezuela, including those who participate in the National Constituent Assembly as a result of [the] flawed election."
You can share this story on social media: