Transgender troops welcome in British military after Trump ban, say generals
Published time: 27 Jul, 2017 10:59
Edited time: 28 Jul, 2017 09:13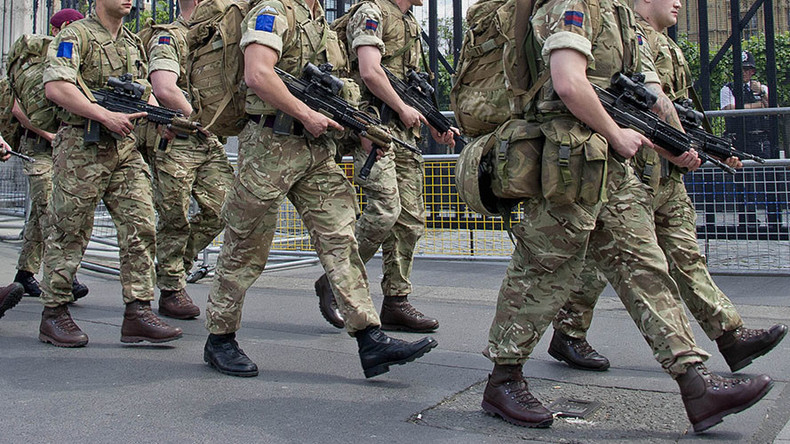 In the wake of President Donald Trump's shock ban on transgender troops serving in the US military, senior British officers have insisted the UK has no intention of following suit.
Trump took to Twitter on Wednesday to confirm that the ban on transgender service personnel would be reinstated.
....Transgender individuals to serve in any capacity in the U.S. Military. Our military must be focused on decisive and overwhelming.....

— Donald J. Trump (@realDonaldTrump) July 26, 2017
He said this was on the grounds that the military must be focused on their mission and "cannot be burdened with the tremendous medical costs and disruption that transgender in the military would entail."
There are reportedly around 15,000 transgender people serving in the US military, while the UK is estimated to have just 10.
British military chiefs were quick to share their opposition to a similar move in the UK.
"As a Royal Navy LGBT champion and senior warfighter I am so glad we are not going this way," Rear Admiral Alex Burton, commander UK Maritime Forces, tweeted.
"We have a justifiably rigorous selection process but it doesn't include discrimination and we're a better fighting force for it," he added.
Second Sea Lord Vice Admiral Jonathan Woodcock tweeted: "They bring diversity to our Royal Navy and I will always support their desire to serve their country."
"I suspect many who doubt the abilities of our diverse service personnel might be more reluctant to serve than they are to comment," he added, in what might be construed as a reference to Trump's alleged draft dodging during the Vietnam War.
A Ministry of Defense (MoD) spokesperson told the Telegraph: "We are clear that all LGBT+ members of our armed forces play a vital role in keeping our nation safe."
"We will continue to welcome people from a diverse range of backgrounds, including transgender personnel," it added.