Michael Gove slams Donald Trump over climate change stance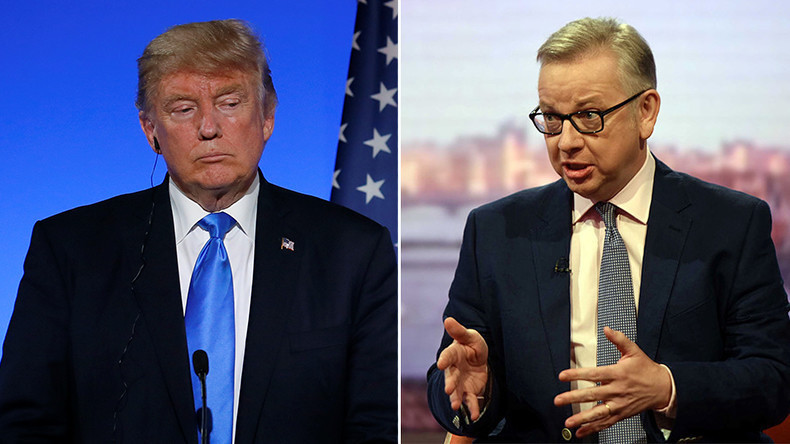 UK Environment Secretary Michael Gove has slammed US President Donald Trump's decision to withdraw from the Paris climate agreement, saying the US "can't simply walk out of the room when the heat is on."
Speaking to the wildlife charity WWF, Gove said he "deeply" regretted the US president's stance on climate change, who once described global warming as a "hoax" perpetrated by China.
"International cooperation to deal with climate change is critical if we're to safeguard our planet's future and the world's second biggest generator of carbon emissions can't simply walk out of the room when the heat is on," Gove said.
Gove also expressed hope that Trump was reconsidering his decision to withdraw from the climate agreement, saying environmental factors had brought about "collapse or crisis" situations that destroyed past civilizations "again and again" over history.
He pointed to evidence of new threats posed by "climate change, the build-up of toxins in our soil, air and oceans, and the spiralling level of resource consumption, waste generation and demand for energy which all threaten human progress in the future."
"It is because environmental degradation is such a threat to future prosperity and security that I deeply regret President Trump's approach towards the Paris Agreement on Climate Change," he added.
Gove also said Britain is pursuing a "green Brexit" and is not prepared to compromise on environmental standards, sustainability, or animal welfare to secure a trade deal post-Brexit.
Instead, Britain would compete on quality and not take part in a "race to the bottom" to win new trading relationships, Gove said.
"Of course it's important we explore new trading opportunities, with the United States and other nations across the world but it must not be, and the cabinet agreed on this, at the risk of dropping any environmental standards whatsoever."
Gove, describing himself as an environmentalist during his speech in Surrey on Friday morning, said "Leaving the EU gives us a once in a lifetime opportunity to reform how we care for our land, our rivers and our seas, how we recast our ambition for our country's environment, and the planet. In short, it means delivering a green Brexit."
Critics have pointed out that the Queen's Speech contained no planned environmental legislation.
Gove met Trump when he interviewed the US president for The Times newspaper during a short stint in journalism when he was demoted from government last year. It was Trump's first interview with a British journalist.
While not a Trump supporter, Gove was criticized on British television for not pressing the president on some key issues.