Ending austerity could unleash economic shock on Britain, warns budget watchdog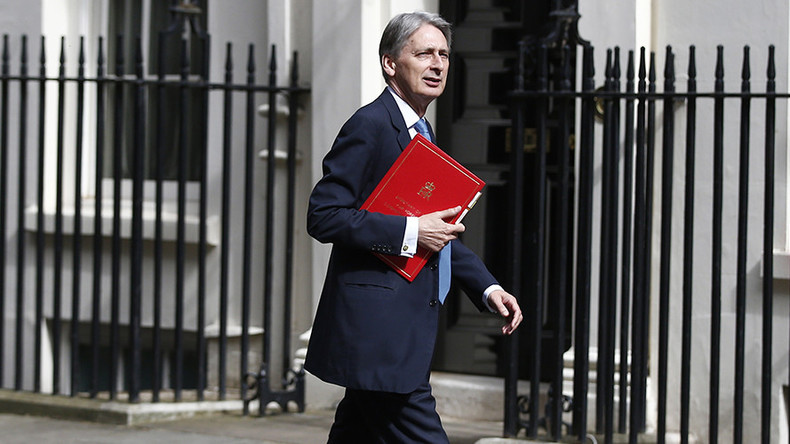 Ending the Tory program of austerity cuts and increasing public spending risks a dangerous economic shock to the UK economy, according to the Office of Budget Responsibility (OBR).
The watchdog argues that if Brexit leads to a recession and higher inflation, or a drop in migration, then the amount the government has to borrow could soar.
This view chimes with the position of Chancellor Philip Hammond, who has proven resistant to the idea of ending the seven-year program of austerity.
The OBR said any of the possible negative outcomes of Brexit could force the government to re-impose harsh cuts, raise taxes or, in the worst case, default.
"The essential thing here is to have the debt-to-GDP ratio on a declining path during good times to build up insurance space that you can exploit when the bad times hit," Sir Charlie Bean, a director at the OBR, told the Times newspaper.
"When you start with a relatively high debt to GDP ratio it's relatively more important to build that space in than if you start with a relatively low position.
"This is the sort of time when you would hope that you would be starting to create fiscal space for there will be some bad surprises that come along. We don't necessarily know what they will be, but you should sure as hell prepare for bad news at some point."
Chair of the OBR Robert Chote said one only had to look around the world "to see the consequences of those sorts of things."
Hammond, one of the architects of austerity, told the paper that the OBR's analysis was fair.
"This is a sober analysis of the challenge we continue to face, and a stark reminder of why we must deliver on our commitment to deal with our country's debts," he said.
You can share this story on social media: