UK's £3bn aircraft carrier could be sunk by cheap missiles – security think-tank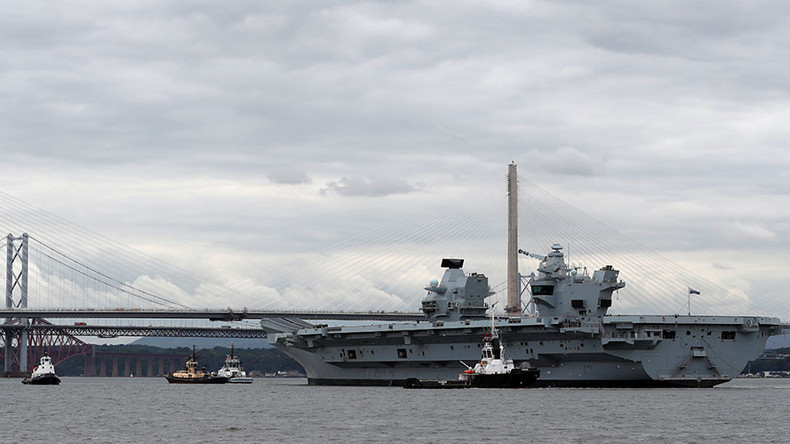 The HMS Queen Elizabeth, Britain's new aircraft carrier, could be sunk by a volley of missiles that cost a tiny fraction of what she is worth, according to a report from the Royal United Services Institute (RUSI) security think-tank.
The report argues that international rivals like Russia and China have focused their energy on finding ways to counter the West's obsession with large, marquee projects like the HMS Queen Elizabeth.
"Missiles costing (much) less than half a million pounds a unit could at least disable a British aircraft carrier that costs more than £3 billion," the report suggests.
"Indeed, a salvo of ten such missiles would cost less than £3.9 million."
The authors argue that the UK and her allies face an "increased peer and near-peer threat from Chinese and Russian long-range precision missiles, which threaten large land, maritime and air platforms."
They added that these potential enemies also had "the potential to make space-borne communications and navigation capabilities susceptible to denial."
"It has become much cheaper to destroy major systems and platforms than to develop and build them, making large-scale attacks on a single target more likely," the report argues.
Defence Secretary Michael Fallon recently caused an international spat by mocking the Russian aircraft carrier Admiral Kuznetsov, which sailed through the English Channel in 2016, as "dilapidated."
He told reporters that the Russians would be looking at Queen Elizabeth's sea trials with "a little bit of envy."
The Russian Defense Ministry said in a statement that the vessel was "merely a large convenient naval target."
"It is in the interests of the British Royal Navy not to show off the 'beauty' of its aircraft carrier on the high seas any closer than a few hundred miles from its Russian 'distant relative,'" it added.
You can share this story on social media: