Health secretary failed to reveal severity of NHS mail blunder that 'put patients' lives at risk'
Published time: 27 Jun, 2017 15:43
Edited time: 17 Aug, 2018 12:32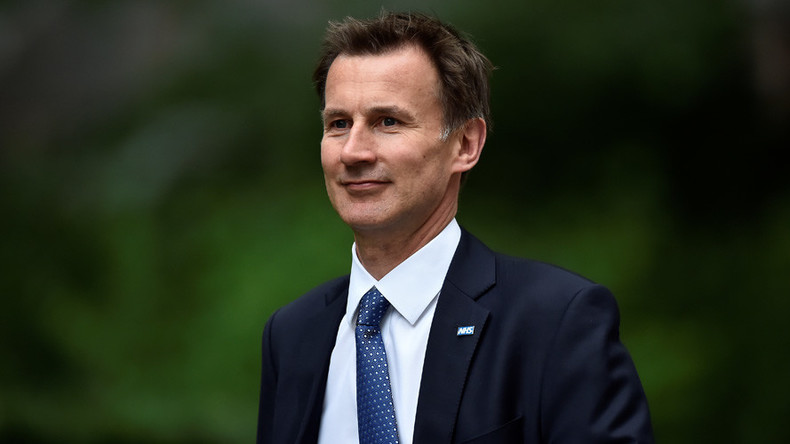 Tory Health Secretary Jeremy Hunt has come under fire after it emerged he knew that a botched mail delivery service had reportedly endangered the lives of hundreds of patients but kept it to himself
It was revealed in February by the Guardian newspaper that private company NHS Shared Business Services (SBS), which is partly owned by the Department of Health, failed to process a bulk of letters that included cancer diagnoses, blood test results and details of treatment.
The National Audit Office (NAO), which is responsible for investigating what has been dubbed a "colossal blunder," published a report stating Hunt had "decided not to alert Parliament or the public" until March 2016, despite the extent of the crisis being known since December 2015.
Because of Hunt's close business ties with NHS SBS, the audit suggested "there is a conflict of interest between the secretary of state's responsibility for the health service as a whole and his position as an NHS SBS shareholder."
Of the 709,000 items that went missing between 2011 and 2016, up to 1,788 are cases of patients who may have been harmed. The NAO expects that figure to rise when GPs finish reviewing the one-third of cases left.
The NAO claimed senior managers at NHS SBS were aware of the scale of the mishap since 2014, but that they failed to put a plan in place to tackle the crisis.
"It is a disgrace that this service failed so badly that patient care was being compromised," said Dr Richard Vautrey, deputy chair of the British Medical Association's GPs committee, according to the Guardian.
"Patients will rightly be angry that this private company, contracted by the NHS, has failed practices and patients to such an extent."
Shadow Health Secretary Jonathan Ashworth said the blunder is a "total scandal."
"For a company partly owned by the Department of Health and a private company to fail to deliver half a million NHS letters, many of which contained information critical to patient care, is astonishing.
"There remain over 1,700 incidents of possible patient harm unaccounted for," he said, according to the paper.
"This is a staggering catalogue of mistakes on this government's watch."
A Department of Health spokeswoman shrugged off the accusations.
"As the NAO report highlights, patient safety has been our first priority and no cases of harm have been identified to date," she said.
"Alongside NHS England, we have been very mindful of appropriate transparency while working to make sure this does not happen again.
"Last year, the health secretary updated Parliament and the Public Accounts Committee was informed."
Concerted efforts to analyze content from the missing correspondence and ultimately deliver it to GPs has so far cost £6.6 million (US$8.4 million).