Britain would back new US airstrikes on Syrian regime targets – Fallon (VIDEO)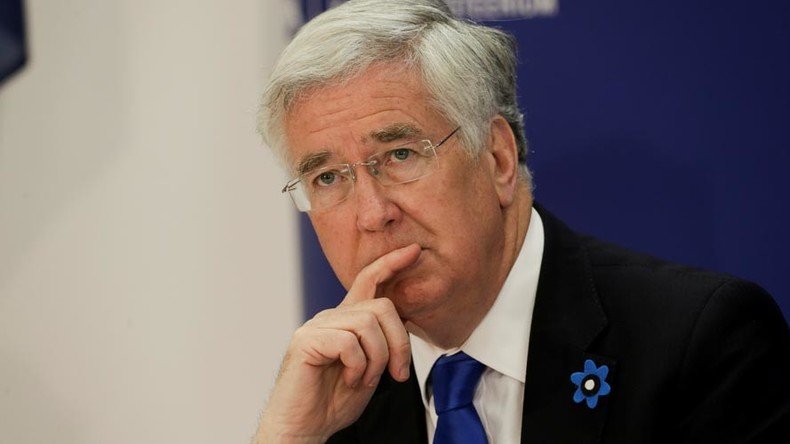 Britain is "absolutely" ready to support retaliation by US President Donald Trump against Bashar Assad in Syria, UK Defense Secretary Michael Fallon has said.
The US claimed on Monday that Assad was "potentially" preparing a deadly chemical weapons attack on rebel forces, and threatened to hit back with new bombing raids.
Fallon said action should be justified, legal, and proportionate, but said in those circumstances the UK's support for US action by Trump would be unwavering. He added that the UK backed the US missile strikes in April, which Trump ordered after an alleged chemical attack by Assad.
"As always in war, the military action you use must be justified, it must be legal, it must be proportionate, it must be necessary. In the last case it was.
"If the Americans take similar action again, I want to be clear, we will support it."
Fallon said the US was monitoring the situation in Syria, but had not shared any specific evidence with the British government.
He said he expects to discuss the situation with US Defense Secretary General James Mattis when they meet at a gathering of NATO defense ministers later this week.
Britain's Stop the War Coalition (StWC) says there should be "every fear" that "Trump is planning a further escalation of his wars in the Middle East – an escalation which will be backed by the weak and rotten British government, propped up by the right-wing DUP."
In a statement on Tuesday, the anti-war group said Fallon "recklessly committing" to support Trump should be opposed.
"There can be no justification for the use of chemical weapons, and we condemn any use of them. Trump's claim that he knows of a proposed chemical weapons attack to be carried out by the Assad government, and that he will use military action to prevent this, should also worry everyone who wants peace in the Middle East.
"We do not know what evidence he has, and it is clear that at least some US military sources are skeptical of his claims.
"But we do know that Trump has built up US support for Saudi Arabia in recent months, and at the same time increased his verbal attacks on Iran, one of Syria's main allies. He is also giving full support to Israel, which is ratcheting up its siege on Gaza, with terrible humanitarian consequences."
StWC says ending the war in Syria will not be achieved through further intervention but by genuine attempts at peace.
You can share this story on social media: