Jeremy Corbyn told Glastonbury Festival founder he'll 'scrap Trident nuclear weapons'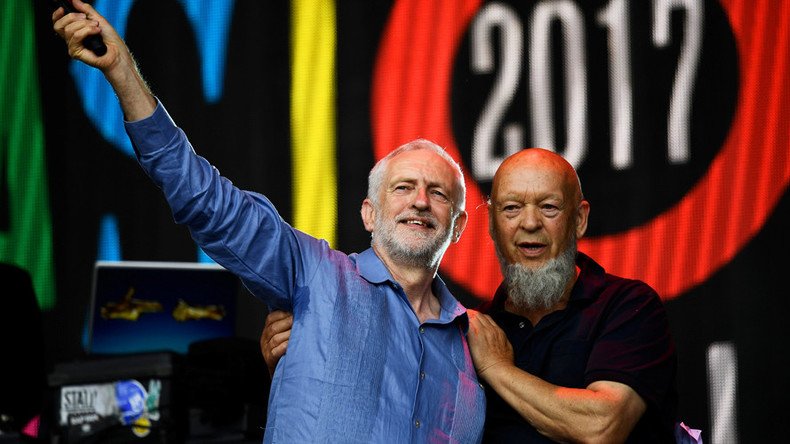 Labour leader Jeremy Corbyn allegedly told the founder of Glastonbury Festival, Michael Eavis, that he will become Britain's next prime minister within six months and that he will scrap the Trident nuclear weapons system "as soon as I can."
Corbyn was invited to the world-famous music festival to introduce hip-hop duo Run the Jewels on the Pyramid Stage on Saturday afternoon.
During a Q&A session at the Speakers Forum on Sunday, Eavis said: "Wasn't he [Jeremy Corbyn] fantastic?
"I said to him when are you going to be prime minister? He said: 'In six months'."
Eavis' comments seem to be at odds with the policy outlined in the party's 2017 manifesto, which commits to a renewal of Trident, Britain's nuclear weapons system.
However, it is widely known that Corbyn is a champion of nuclear disarmament. The comments sparked concern the anti-war activist will try to change the party's policy if he becomes prime minister.
Before the election, Corbyn stressed that although he would personally like to see a world free of nuclear weapons, he would not oppose his own party's commitment to renew the system.
"I voted against the renewal. Everybody knows that because I wanted to go in a different direction," he told the BBC's Andrew Neil.
"That is the decision that's been taken; I respect that decision going ahead."
A spokesman for Corbyn said the conversation between the 81-year-old Glastonbury founder and the Labour leader had been paraphrased, and that Eavis' remarks are not an accurate reflection of the party and leader's stance.
"Jeremy and Labour are ready to fight another general election as soon as it is called.
"We will be campaigning to win and hope that Jeremy will be returned as prime minister," the Labour spokesman said.
"That is the case whether it's in six months, as has been speculated on, or later."
He went on to say that despite Corbyn's clear commitment to nuclear "non-proliferation," the Labour leader stands on the policy outlined in the manifesto.
"Both Jeremy and the Labour Party have long been committed to the Nuclear Non-proliferation Treaty which aims to achieve a nuclear-free world.
"Trident renewal is Labour policy, as spelled out in our manifesto, which Jeremy and the party were proud to stand on in the election."
Tory MP Johnny Mercer blasted Corbyn for the alleged comments.
"Corbyn is kidding even his own Corbynistas – he says one thing in public and the opposite in private.
"Don't be fooled this man is dangerous and cannot be trusted with our defense and security."
The socialist leader was previously criticized for suggesting "any use of nuclear weapons is a disaster," during a BBC interview in April.
Work and Pensions Secretary Damian Green said at the time that Corbyn's comments on the nuclear system should be the deal-breaker in sticking to Theresa May as PM.
"What he [Corbyn] said was that he would dismantle Britain's nuclear defenses and he would fail to deal effectively with terrorism.
"This man could be Prime Minister in seven weeks' time.
"I can't think of a better reason for sticking with the strong leadership of Theresa May than the fact Jeremy Corbyn would dismantle this country's defenses."
You can share this story on social media: