London Eye evacuated as suspected WWII-era bomb reported in Thames (PHOTOS)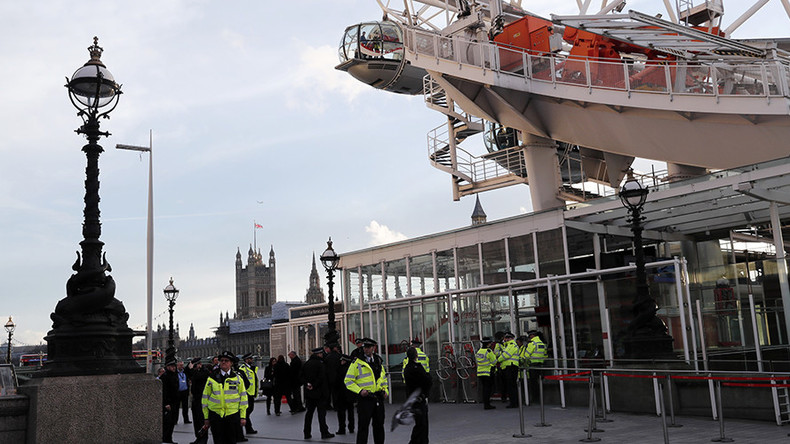 The London Eye and Waterloo Pier were evacuated and a security cordon was established Sunday morning after a member of the public reported seeing a suspected World War II-era bomb in the River Thames.
"Police were called at 10:30hrs on Sunday, 25 June, by a member of the public reporting suspected WW1 or WW2 ordnance in the foreshore on the River Thames near to the London Eye," a police spokesperson was cited as saying in the Metro.
The 135-meter (442 ft) tall London Eye is one of the city's most popular tourist attractions with up to 3.75 million visitors a year, more average annual visitors than the Taj Mahal or the Pyramids of Giza, according to the British Tourism Board.
The evacuation order and security cordon were lifted soon after the device was assessed by police.
"The cordons have been lifted. The submerged object remains in situ and will be assessed at low tide," a Met spokesperson said as cited by the Express.
As a further safety precaution, the widely used Thames river bus service temporarily suspended service to the Waterloo Pier stop.
Unexploded ordnance from World War 2 is regularly found in the Thames. In January, the Westminster and Embankment tube stations were closed as was Westminster Bridge while police dealt with a device found in the Thames.
The Royal Navy bomb disposal unit was called in and deactivated what turned out to be a World War II era bomb.
In April, another World War II bomb threatened the Oxford-Cambridge boat race near Putney Bridge but police were able to quickly deal with the device and the event went ahead as scheduled.