Arrests made as far-right and anti-fascist protesters clash in London (VIDEO)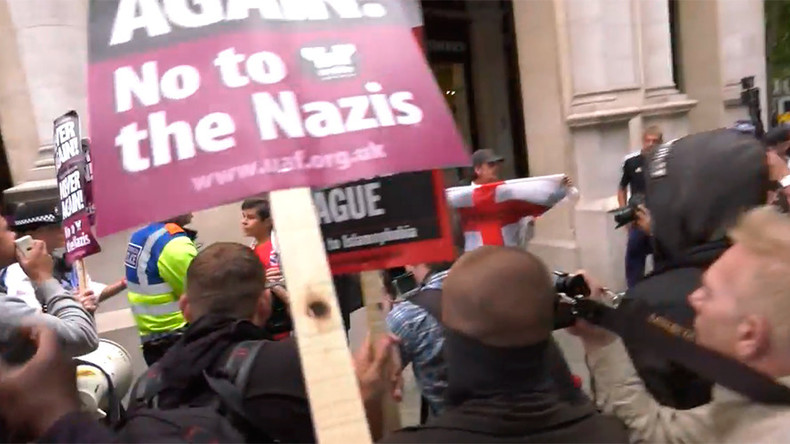 Several people have been arrested when a march staged by the far-right English Defense League (EDL) was opposed by several counter-protests by anti-fascist groups resulting in clashes between rival protesters in central London.
The trouble began even before the EDL march, according to British media.
Some scuffles were also later reported to have played out on the sidelines of the march despite the heavy police presence on the scene.
Ruptly footage shows one anti-fascist protester being floored by police after he attempted to attack a group of EDL supporters. The video also shows several anti-fascist activists being escorted to police vans.
An RT correspondent said both the EDL protest and the counterdemonstrations were "small in number" as between 40 and 50 people were shouting at each other, but that the demonstrators were "very emotional and every aggressive," prompting police to take heavy security measures.
The EDL, a far-right street protest movement known for its anti-Islamic stance, staged its march in central London Saturday to call on authorities to do more against what they described as the "Islamic terror threat" in the UK.
The far-right group marched from Charing Cross to the Victoria embankment, where they staged a rally, between 13:00 and 14:30 GMT, British media report. Just dozens of people joined the far-right rally, some witnesses said on social media while the Express reported that the EDL turnout was "low."
Demonstrators were carrying EDL flags and placards that read: "No to Jihad!" "No more mosques!" and "No sharia!" Some of their banners urged the government to introduce stricter border controls and "defend the British borders."
To counter the far-right activity, a demonstration organized by the Unite Against Fascism (UAF) movement was organized at Victoria Embankment between 12:30 and 15:00 GMT. A separate but similar themed anti-fascist rally was staged outside St Paul's Cathedral.
READ MORE: Far-right march in Liverpool blocked by left-wingers, police arrest 12 after clashes (VIDEO, PHOTOS)
"Never again!" "No to fascism!" and "Smash the English Defense League!" read some of the counter-protesters' placards and banners. They were also chanting "Nazi scum!"
Hundreds of police officers were deployed on London's streets to separate the far-right and anti-fascist camps and to prevent possible violence.
"We have made the decision to impose conditions based on current tensions and concerns, information about the intentions of the organizers of these events and intelligence from previous marches held by similar groups," police superintendent Emma Richards told reporters.
"We have a duty to ensure that the community in central London can go about their daily business not unduly impacted by demonstrations taking place," she added.
Saturday's protest action follows three high profile terrorist attacks that recently hit London and Manchester. Islamic State (IS, former ISIS/ISIL) have claimed responsibility for all three attacks. In the most recent terrorist related occurrence, a man drove through a group of Muslim worshippers near Finsbury Park Mosque in northern London. Police are treating the case as a far-right terrorist act.