Boris Johnson gives 'worst interview by politician ever' on live radio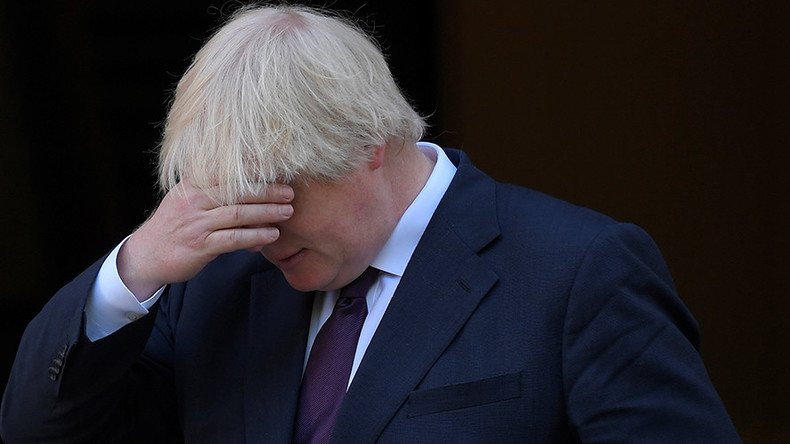 Foreign Secretary Boris Johnson's competency has yet again been called into question following a botched BBC interview in which the Tory minister failed to answer key questions on the government's program set out in the Queen's Speech.
During the interview on BBC Radio 4 with Eddie Mair, Johnson repeatedly stumbled over questions about the Tories' policies announced in the state opening of Parliament on Wednesday.
Mair asked what policies outlined in the Queen's Speech would tackle the "burning issues" highlighted by Prime Minister Theresa May a year ago when she entered Downing Street.
He asked how the government intends to tackle discrimination against black people in the criminal justice system.
"Well, there are measures, I believe, in the bill on the courts which I think is supposed to address some of those issues," Johnson replied.
"I think one thing in particular that we are looking at is measures to ... hang on a second ... there are all sorts of measures that we want to take to ensure that we do not discriminate against everybody."
Mair fired another question at the befuddled foreign secretary, asking him what policies are in place to help white working class people access education.
Johnson, however, appeared to dodge the question completely, saying instead that the Queen's Speech focuses on "economic growth" and coming out with a "successful Brexit."
He did though add that the government aims to ensure a "fantastic educational system" and "make sure there is a ladder of opportunity for everybody."
Turning to the issue of mental health, Mair accused the government of merely announcing proposals for "review and discussion" rather than "concrete policies."
Johnson once again digressed from the challenge and tried to answer Mair's previous question.
At that point the BBC presenter lost his patience. "It's not a Two Ronnies sketch – you can't answer the question before last," Mair said, referring to the popular UK comedy double act from the 1970s and 80s.
Mair asked the Tory MP why Conservative manifesto pledges were ditched so easily, to which Johnson replied: "I'm not going to hide it from you that the election did not turn out exactly as we would have hoped."
He insisted, however, that the Queen's Speech had been "very progressive."
Johnson also dismissed speculation he is trying to snatch the leadership from Theresa May, insisting the prime minister is a "great leader," pointing out that the public currently has little appetite for another election.
But as support for the Tory party withers and May's pledge for a "strong and stable leadership" loses credibility, Mair challenged Johnson on what being a prime minister actually entails, to which, again, the foreign secretary seemed to give a fumbling answer.
"The point of the prime minister is to lead the country, to give a ...er... lead on these key issues … and to take this Queen's Speech through.
"And she will, and she will do a great job."
Social media users mocked Johnson's performance.
You can share this story on social media: