Times accused of 'playing down white extremism' in Finsbury attack coverage
Published time: 20 Jun, 2017 12:21
Edited time: 22 Jun, 2017 08:16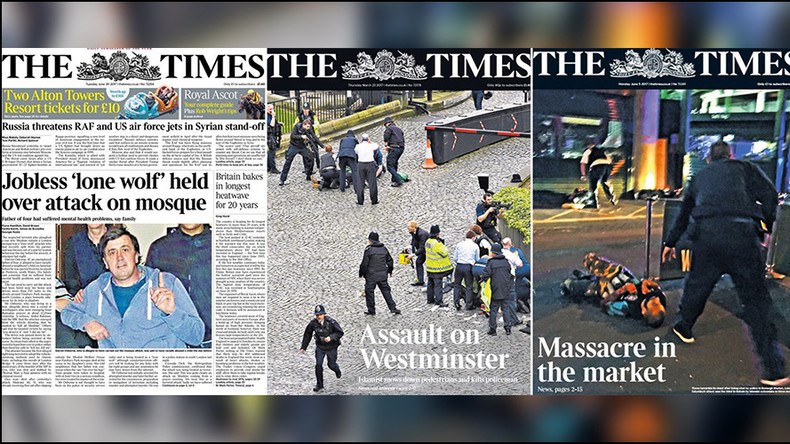 The Times newspaper is facing a barrage of criticism for its coverage of the Finsbury Park attack after its front page headline labeled the white attacker a "jobless lone wolf" and not a "terrorist."  
Twitter user and journalist Sunny Hundal tweeted: "This is a parody of newspapers playing down white extremism, right? Wait, no, it's their actual splash #lonewolf."
"It's almost like there [is] an inherent bias at work," he added.
Author Natasha Pulley tweeted: "In bold move as other papers cover terrorism, The Times blasts unemployed wolves as build-up for tomorrow's front page plea for more zoos."
Another Twitter user said: "There it is. The lone wolf, the guy with mental health issues, the white extremist who is being given every pass possible. I can't. Dad for 4, recent split from his partner. Are you actually serious? This is just WOW. White privilege here STINKS."
Following the London Bridge and Borough Market terrorist attack, in which three Islamists rammed a van into a crowd before launching a bloody knife rampage, the Sunday edition of the Times called those responsible for the attack terrorists. Its front page headline read: "Carnage at London Bridge as terrorists target revellers."
Twitter user Jeremy McLellan took to Twitter to point out how differently the attacks had been covered by the newspaper.
"The Times after the London Bridge attack vs The Times after the London Mosque attack. Can you spot the difference?"
"Poor chap just needed a job, unlike those gainfully employed ISIS [Islamic State] recruits," he added.
One of his followers replied by saying: "Does this lone wolf also suffer from mental health problems? Poor guy."
Other Twitter users labeled the newspaper "hypocritical," calling its coverage "predictable."
"It's distressing that I'm not surprised at all by The Times headline. But hey, white people can't commit terrorism, can they?" one user tweeted.
"The difference says it all #2standards," Mohammed Ahmad Saeed wrote.
Others asked whether the article was actually published by the Onion, a spoof news website.
Chris Doyle, a commentator on the Middle East and a director at the Council for Arab-British Understanding (Caabu) also pointed out the difference in coverage.
"Compare front page of The Times today and S Times after London Bridge Attack. Westminster attacker was also jobless & lone wolf," he tweeted.
The Independent also appeared to play down the attack outside a mosque on the early hours on Monday morning that left one dead and 11 injured, with its headline reading: "Father-of-four held over mosque attack."
One reason the media is treating the Finsbury attacker so differently is because, unlike the Westminster and London Bridge terrorists, the suspect Darren Osborne was captured alive, and will therefore face trial. Editors are wary of contempt.