Thousands attend anti-government protest in London as pressure builds on Theresa May (VIDEOS)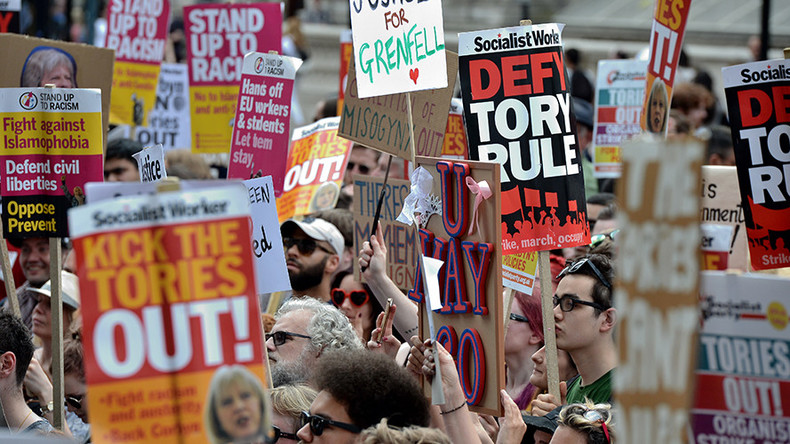 Thousands of demonstrators gathered outside Downing Street in central London on Saturday to rally against the alliance of Theresa May's government with Northern Ireland's hardline DUP.
Protesters demanded May step aside following the disastrous election campaign of the Conservative Party, which now needs the support of the DUP to guarantee a majority vote in parliament.
The hashtag #MayMustGo trended on social media as thousands of protesters attended the march in central London.
Frustration over May's Pyrrhic election victory has turned to anger since the devastating Grenfell Tower disaster, from which the official death toll has reached 30, with dozens of people still missing.
May is facing mounting pressure to resign due to her handling of the situation and tensions have been heightened by her failure to meet with victims in wake of the tragedy.
Anger has boiled over in London over claims that earlier renovation work may have been responsible for the dramatic spread of the blaze.
Britain's Labour party leader, Jeremy Corbyn, has written to Prime Minister Theresa May regarding her decision to hold a public inquiry into the fire.
The opposition leader is seeking assurances that the inquiry will be fully independent and held under the provisions of the 2005 Inquiries Act.
Corbyn also stressed that the inquiry should have sufficient scope to establish "all the relevant facts and to ensure that all necessary lessons are learned."
You can share this story on social media: