Armed police arrest man 'reaching for knife' outside gates of UK parliament (VIDEO)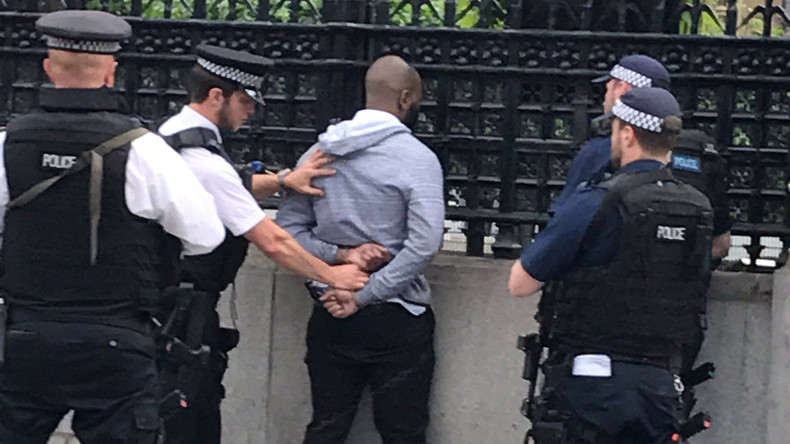 British police have arrested a man suspected of carrying a knife outside the Palace of Westminster after he ran, shouting, towards one of the gates on Friday afternoon.
A member of public reportedly shouted "knife, knife, knife," according to one Sun reporter.
Witnesses say the man, who is in his 30s, was shouting and running towards one of the main gates to parliament.
The suspect was tasered before being pinning to the ground while officers pointed a gun at him.
"The man reached for a knife," police told Reuters. "Nobody was injured."
The suspect was taken away in a police van.
Police are on high alert after a terrorist attack on Westminster Bridge on March 22. Khalid Masood killed six people including a police officer in a joint vehicle and knife attack.
"At this time it is too early to understand the motivation so we have not declared this a terrorist incident," the Metropolitan Police said in a statement.
"However given the location, the circumstances and recent tragic events, the MPS Counter Terrorism Command will be investigating this incident."
"We remain open minded as to whether terrorism was a motive."
The incident occurred at around 11.10am local time on Friday.
Traffic is flowing normally around Parliament and armed officers are patrolling the area, Reuters reports.
"You could tell he was suspicious, he was stood there fists clenched. He looked quite an angry geezer," Bradley Allen, 19, told Reuters.
"We got seconds down the road and they had him on the floor, pinned. Police around him, telling everyone to move back."
Another witness told Reuters: "There were about three or four policeman, one of them shouting at the crowd to get back.
"The guy was on the ground on his front on the pavement alongside Parliament Square. They had him on the ground and were warning they would taze him again."
In a statement, the Metropolitan Police said: "At 11:10hrs on Friday, 16 June, a man was detained near to the Palace of Westminster.
"The man - aged in his 30s - was arrested on suspicion of possession of a knife. There are no reports of any injuries."
Ben Glaze, a political reporter from the Daily Mirror says he saw police take some items from the floor around the suspect.
The Mirror reports the Palace of Westminster had not been fully locked down, as initially reported, but public and staff were told to stay away.
The BBC says only the Carriage Gates entrance of Parliament was closed.