London tower block inferno: How events unfolded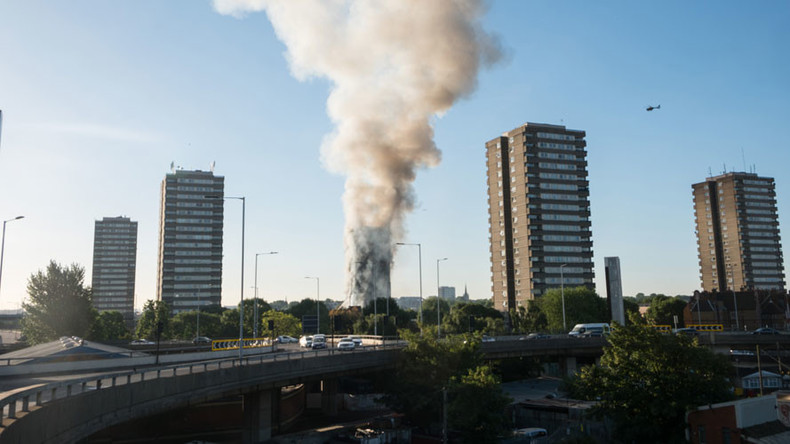 A blazing inferno has wiped out a 24-story residential tower in West London overnight. At least 30 people have been sent to hospital and authorities confirmed a number of fatalities. RT takes a look at how the emergency developed.
The major fire at the Grenfell Tower was reported to emergency services at around 1:20am.
Initial reports say the fire may have started on the fourth floor, possibly the result of a faulty refrigerator, RT UK correspondent Eisa Ali reported from the scene.
The London Fire Brigade mounted an effort to control the blaze, dispatching 40 fire engines and 200 firefighters. The Metropolitan Police sent hundreds of officers to cordon off the area.
Meanwhile the flames spread to the roof of the building.
Hundreds of residents fled their homes, some in their pajamas, terrified and franticly searching for family members.
Some residents became trapped, crying for help from inside the tower, witnesses reported.
By 4am, the entire building was engulfed in flames.
Residents from buildings surrounding Grenfell Tower were evacuated as falling debris threatened to spread the fire. It also made the tasks of firefighters trying to control the blaze more dangerous.
People in the neighborhood offered their houses to those in need while others helped organize a makeshift aid center at a local community center. Churches in the parish covering the area offered shelter to the evacuees.
By daybreak, smoke continued to billow from the building, but the fires appeared to be mostly extinguished.
By 6:30am the London Ambulance Service confirmed 30 patients had been taken to five hospitals.
At 7:30am London Fire Commissioner Dany Cotton confirmed that there have been fatalities in the blaze. She would not immediately confirm any numbers.