EU growing 'impatient' with Britain, says Brexit negotiator Verhofstadt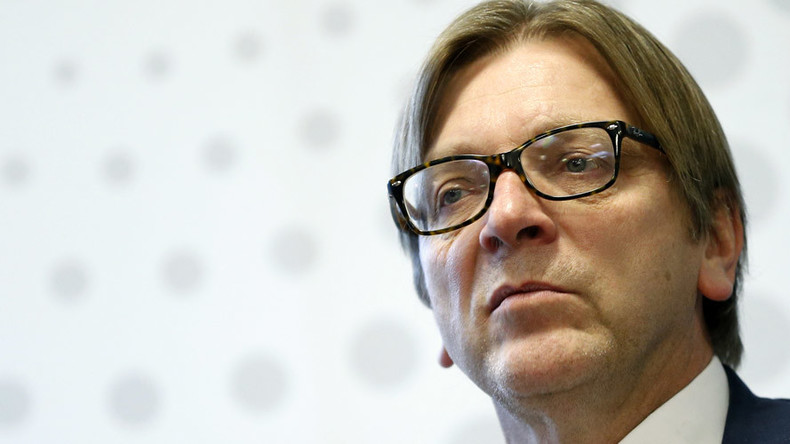 The European Parliament's chief Brexit negotiator, Guy Verhofstadt, says EU officials are growing "impatient" with the British government, as they wait for its negotiating position following last week's snap election.
In a tweet, Verhofstadt said the "current uncertainty cannot continue" after the UK's June 8 general election resulted in a hung parliament and left Prime Minister Theresa May scrambling to form a minority government propped up by the Democratic Unionist Party (DUP).
We are impatiently waiting for the negotiating position of the UK gov. The current uncertainty cannot continue.

— Guy Verhofstadt (@GuyVerhofstadt) June 13, 2017
May's humiliating loss of a Tory majority means she is likely to adopt a softer negotiating stance to win support in a House of Commons hostile to a 'hard Brexit' and to make sure the DUP gives her the backing she needs.
There are growing calls among MPs of all the major parties for May to drop plans to withdraw from the single market and end freedom of movement, and to soften her stance so that the Brexit deal reflects the electorate's demands.
Secret talks have reportedly already taken place between Labour and senior Tory cabinet ministers to secure cross-party backing for a softer Brexit.
Scottish Conservative leader Ruth Davidson called on May to consider all parties when drawing up a deal for the UK's divorce from the EU.
"I'm suggesting that the Conservative Party works with those both within the House of Commons and with people without to ensure that as we leave the EU, we have a Brexit that works for the economy and puts that first," Davidson told the BBC after a cabinet meeting on Monday.
She then suggested the government could put its manifesto pledge to cut immigration to the tens of thousands on the back burner and focus on striking a good deal for business and the economy instead.
"We do have to make sure that we invite other people in now. This isn't just going to be a Tory Brexit, this is going to have to involve the whole country," Davidson said.
According to the BBC, however, May's former leadership rival and newly-appointed Environment Secretary Michael Gove has dismissed calls for the government to change its Brexit stance. He said there is a "clear consensus" for leaving the single market and ending free movement – two pledges outlined in the party's manifesto.
'I can't negotiate with myself'
EU chief Brexit negotiator Michel Barnier has warned the UK risks crashing out of the EU without a deal if it carries on "wasting time."
"My preoccupation is that time is passing, it is passing quicker than anyone believes because the subjects we have to deal with are extraordinarily complex," he said, according to the Financial Times.
"I can't negotiate with myself."
Brexit negotiations officially started in May when the PM signed a letter under Article 50 of the Lisbon Treaty, and are due to end by November 2018.
Referring to speculation that negotiations could be extended until March 2019, Barnier said: "If we work seriously, I see neither the usefulness nor the interest of pushing back this date.
"Why? Because every extra delay is a source ... of instability that we don't need, which the economy doesn't need, which employment doesn't need."
Saying EU officials are prepared for all eventualities, including "no deal," the Brexit negotiator seemed to suggest the UK cannot cherry-pick its way out of the bloc.
"It's not a supermarket — it's a community, a space of economic and social and human life," he said.
"Thus the four freedoms go together. And we will not compromise on the autonomy of decisions of the EU."
Meanwhile, German Finance Minister Wolfgang Schaeuble said the UK would be welcome to stay in the EU if it reversed its decision to withdraw.
"We take the decision as a matter of respect. But if they wanted to change their decision, of course, they would find open doors," he told Bloomberg.