Death of UKIP? Paul Nuttall resigns after party fails to win a single seat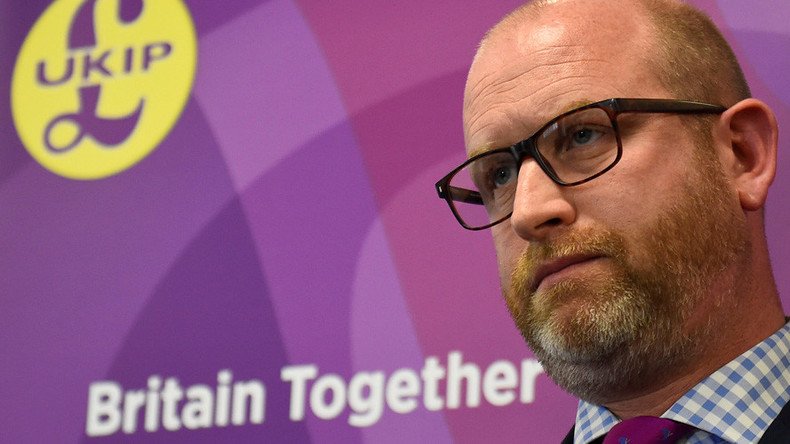 The UK Independence Party (UKIP) has been devastated in the general election, failing to win a single seat. Leader Paul Nuttall has resigned, sparking speculation of a Nigel Farage comeback.
News of the UKIP leader's departure spread through social media from around 10.40am after the party gained just 2 percent of the vote nationally.
Paul Nuttall quits as UKIP leader

— Guido Fawkes (@GuidoFawkes) June 9, 2017
Stepping down, Nuttall said he is sure UKIP has a bright future as the "guard dogs of Brexit."
The party reportedly plans to rebrand and elect a new leader soon. In the interim deputy leader Pete Whittle has stepped in.
UKIP fielded 377 candidates for the snap election, but if exit polls are correct they will fail to gain a single seat in the House of Commons. UKIP's only MP, Douglas Carswell, defected back to the Conservatives in March.
Nuttall came third in Boston & Skegness where he was challenging Tory incumbent Matt Warmen.
The UKIP leader won 3,300 votes, significantly less than Labour and the Conservatives, which gained 10,700 and 27,270 respectively.
Earlier in the evening, Nuttall appeared to blame Prime Minister Theresa May for UKIP's poor predictions and warned the result would put Brexit "in jeopardy."
If the exit poll is true then Theresa May has put Brexit in jeopardy. I said at the start this election was wrong. Hubris.

— Paul Nuttall (@paulnuttallukip) June 8, 2017
Neil Hamilton, UKIP's leader in the Welsh Assembly, said the party's vote has been "squeezed" as the election became a "binary competition between Labour and the Tories."
However he was optimistic the party could "carve out a niche" in UK politics following what looks like a "disastrous election" for the Conservatives.
A party source added it was "wrong to think all UKIP voters would vote for May on Brexit, anti-establishment Corbyn more attractive for many."
Corbyn's personality much stronger and more sincere than May. He's picking up Remain voters in London and UKIP voters elsewhere.

— Nigel Farage (@Nigel_Farage) June 9, 2017
UKIP economic spokesman Patrick O'Flynn said there would be "hell to pay" with Brexiteers if the exit poll is correct, adding he expects people to "gravitate back to UKIP in very large numbers."
Speaking to LBC, former UKIP leader Nigel Farage said he is "not surprised" the party faces a wipeout.
"The Conservatives have taken on the UKIP agenda. It rather amused me. I listened to Theresa May's speeches and she was using the same words and phrases I've used for the past 20 years. The only trouble is, she didn't believe in it.
"She doesn't really believe in anything. That was where Corbyn was so impressive. I don't agree with his agenda, but he went around the country and it was clear he believed in something."
You can share this story on social media: