'Reignite the British spirit': 'Biased' anti-Corbyn tabloids binned & burnt on election day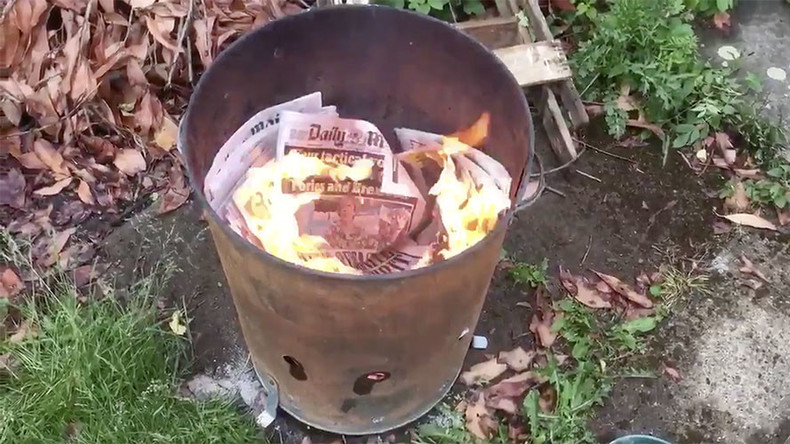 As Britain goes to the polls, some people are heading to newsagents and supermarkets to bulk-buy pro-Tory tabloids before burning them in bins, and of course sharing the results on social media.
Images posted online show stacks of right-wing tabloids, namely the Daily Mail, the Daily Express and the Sun, being set on fire or thrown in dustbins amid frustration over their anti-Corbyn front-pages.
On the day the nation votes for Britain's next leader, the Sun ran a front page with the headline: "Don't chuck Britain in the Cor-bin."
The Daily Mail's bias is also explicit, as its front page features a picture of Prime Minister Theresa May with a headline reading "Let's reignite the British spirit."
Twitter user John Niven mocked the tabloid by posting a video of him burning tabloids, with the caption: "This morning I reignited the British spirit with the newsagents entire stock of Suns and Daily Mails."
It was not long before others followed suit.
Marianne MacDonald posted an image of a pile of tabloids chucked in a recycling bin after buying the "toxic waste" from her local shop.
While others went as far as saying that they would use their tabloids for toilet paper.
Jack Mitchell also struggled to refrain from throwing the news out...
The criticism, however, did not appease everyone, as some Twitter users highlighted the fact that by buying so many tabloids, people are merely increasing their circulation and revenue.
Louis Rynsard said buying the papers to then just burn them is still "giving money to the people they hate."
Others hit out at the move as they believe it undermines "free information."
Sarah Ebner said the act suggests an "intolerance" towards reporting, which she finds "frightening."
Another echoed these claims, saying people should have the liberty to choose their own means of information.
The social media trend comes after Britain's right-wing media was accused of a glaring bias against Labour Party leader Jeremy Corbyn on the day before Britons headed for polling stations.
The Daily Mail's front-page splash on Wednesday showed a picture of Corbyn and shadow cabinet ministers Diane Abbott and John McDonnell beneath a headline reading "Terror apologists."
The subhead also clearly expressed the paper's editorial stance as it read: "The Mail accuses this troika of befriending Britain's enemies and scorning the institutions that keep us safe."
The Express and the Sun also received a backlash, after the former carried the headline "Vote May or we face disaster" and the latter running with: "JIHADI COMRADES."