'Right wing b*ll*cks': Daily Mail, Sun trolled for blatant anti-Labour headlines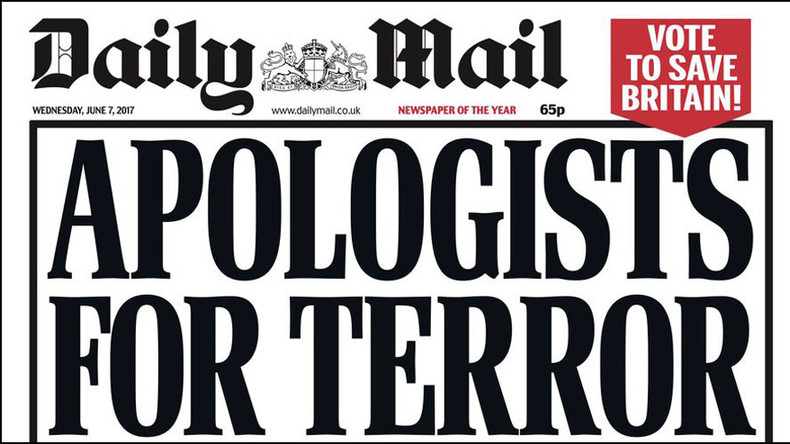 Just a day before Britons go to the polls for the general election, a number of UK newspapers are facing scathing criticism for running blatant anti-Labour front pages, including the Daily Mail's branding of party figures as 'Apologists for terror.'
The damning headline is blazed across the paper's front, page hanging above pictures of Labour Party Leader Jeremy Corbyn, Shadow Home Secretary Diane Abbott, and Shadow Chancellor John McDonnell.
"The Mail accuses this troika of befriending Britain's enemies and scorning the institutions that keep us safe," the sub headline reads.
While many people are lashing out at the Mail, accusing them of blatant bias so close to the election, the front page doesn't come as a surprise to many as the paper has traditionally backed the Conservative party and regularly attacks its rivals.
The Daily Express, The Sun and The Telegraph also came in for criticism. 'VOTE MAY OR WE FACE DISASTER,' screams The Express front page while The Sun runs with 'JEZZA'S JIHADI COMRADES.'
The Daily Mirror, which has supported the Labour Party for decades, also runs with a picture of Corbyn on its front page. However, it will promote an exclusive interview with the Labour leader. 'Corbyn: We will do something very special. We will win tomorrow... for the many not the few,' the front page reads.
The Guardian, which is seen to have a more liberal reputation, leads with British Prime Minister Theresa May's vow to change human rights laws if the laws prevented her government from imposing restrictions on terror suspects.