UK police arrest Manchester attack suspect at Heathrow airport
Published time: 6 Jun, 2017 23:15
Edited time: 7 Jun, 2017 09:13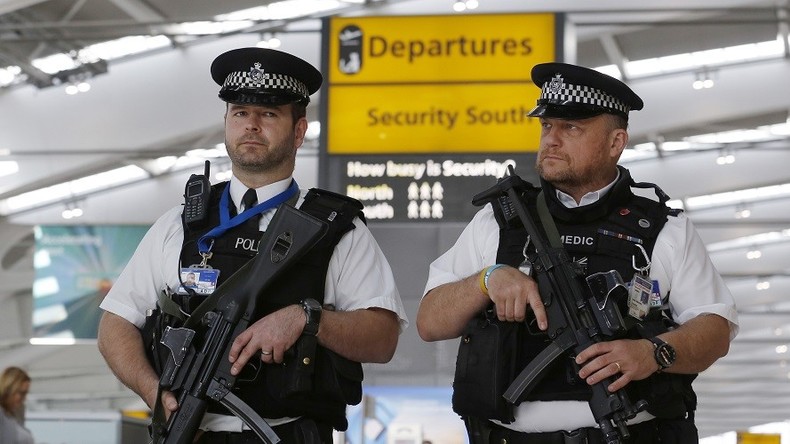 British authorities have arrested a 38-year-old man at Heathrow airport in connection with the Manchester Arena attack last month, where a suicide bomber killed 22 people and injured dozens following Ariana Grande's concert.
"The 38-year-old was arrested on suspicion of offenses contrary to the Terrorism Act and remains in custody," Greater Manchester Police said in a statement posted on Twitter.
Authorities emphasized that the operation to arrest the suspect was "planned beforehand" and that there was "no direct threat" to the UK's busiest air hub.
Seven people currently remain in police custody in connection with the May 22 attack. Police have made 19 arrests in the ongoing investigation so far, but 12 people have been released without charge after questioning.
Twenty-two people were killed and over 100 others sustained various injuries when a suicide bomber, later identified as British born Salman Abedi, 22, detonated a shrapnel-laden explosive device at the foyer exit of the Manchester Arena after the Ariana Grande show.
Earlier on Tuesday, Greater Manchester Police revealed that authorities seized a white "old style" Nissan Micra as part of the ongoing investigation, uncovering "significant evidence" inside the vehicle. The picture of the vehicle together with a gym bag with the San Francisco 49ers logo was made public.
Police believe that Abdi made "repeated trips to and from this car" leading up to the terrorist attack. Items taken out of the vehicle, police assume, were used to "help assemble the [explosive] device."
Authorities note that the car was sold to the suicide bomber on April 13, but Abedi left the UK on April 15.
"It is vital that we understand what happened with this car during these few days between 13 and 15 April," Manchester police said in a statement asking the public to help.