Tory candidate's cringey low-budget election campaign video goes viral (VIDEO)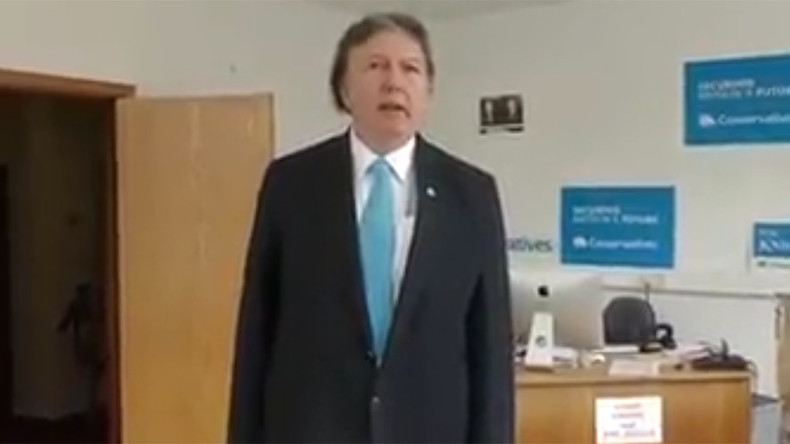 Sir Greg Knight's unintentionally hilarious campaign video featuring an 80s-style pop song about the Tories has gone viral, with the Conservative candidate being compared to British comedy character Alan Partridge.
The video is shot entirely in what is presumably Knight's constituency office in East Yorkshire. It opens with Knight in an ill-fitting jacket speaking awkwardly to a shaky camera, reading from a cue-card just to the left of the lens.
Knight implores the people of East Yorkshire to re-elect him and vote for Theresa May's "strong and stable" leadership instead of a "coalition of Chaos" led by Labour's Jeremy Corbyn, as he sways slightly on the spot.
As his message wraps up, a drum machine snare fill kicks in, and the camera cuts to a shot of the same wall Knight was standing in front of – except he has mysteriously disappeared.
A purpose written 1980s style pop song then begins with the lyrics: "You'll get accountability with Conservative delivery / Make sure this time you get it right / vote for Greg Knight."
The cameraman does not zoom, but walks towards a Greg Knight poster.
Although the video was uploaded to YouTube earlier in the campaign, it has now gone viral. On first watching, you'd be forgiven for thinking it was a spoof, but the video is featured on Knight's official website so it would appear to be genuine.
Social media users said they were "crying of laughter" as they compared Knight to Steve Coogan's comedic character Alan Partridge.
RT has contacted Knight's office for comment.
The 68-year-old was first elected to Parliament in 1983, and has held the seat of East Yorkshire since 2001.
Knight plays the drums in Parliament's rock band MP4.