International leaders express sorrow & solidarity after Manchester terrorist bombing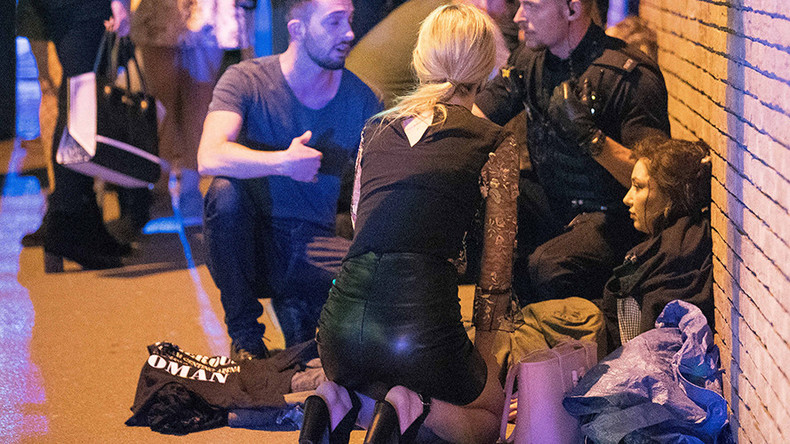 Condolences poured in from world leaders during the early hours of Tuesday, after a terrorist attack at a Manchester concert venue claimed the lives of at least 22 people, many of whom were children.
German Chancellor Angela Merkel expressed shock and sorrow.
"This suspected terrorist attack will only strengthen our resolve to continue to work together with our British friends against those who plan and carry out such inhumane deeds," said the German premier.
"I assure the people of Britain: Germany stands at your side," she stressed.
New French President Emmanuel Macron conveyed his condolences, writing on Twitter: "I send my thoughts to the British people, the victims and their loved ones. We are leading the fight against terrorism together."
Russian President Vladimir Putin has expressed his deepest condolences to British Prime Minister Theresa May over the incident, and said that Russia is ready to enhance cooperation with the UK in fighting terrorism.
He also expressed his sympathies to the relatives of the terrorist attack victims and wished a speedy recovery to those injured in the blast.
"We resolutely condemn this cynical, inhumane crime. We expect that the masterminds who were behind it will not escape justice," he said, as cited by the Kremlin.
US President Donald Trump too, also expressed his "deepest condolences."
"We stand in absolute solidarity with the people of the United Kingdom," Trump said in a statement released while he was on tour in Israel.

"So many young, beautiful, innocent people living and enjoying their lives murdered by evil losers in life.
"I won't call them monsters, because they would like that term… They would think that's a great name. I will call them, from now on, losers. Because that's what they are. They're losers. Just remember that."
The US president added: "Our society can have no tolerance for this continuation of bloodshed. We cannot stand a moment longer for the slaughter of innocent people. And in today's attack it was mostly innocent children.

"The terrorists and extremists and those who give them aid and comfort must be driven out from our society forever. This wicked ideology must be obliterated, and I mean completely obliterated, and the innocent lives must be protected.

"All civilized countries must come together to protect human life and the sacred right of our citizens to live in safety and in peace."
Canadian Prime Minister Justin Trudeau also took to social media to express his regret.
"Canadians are shocked by the news of the horrific attack in Manchester tonight. Please keep the victims & their families in your thoughts," he wrote on Twitter.
European leaders and European Union officials were also quick to send their thoughts, including President of the European Council Donald Tusk, President of the European Commission Jean Claude Juncker, and the prime ministers of Spain and Portugal, Mariano Rajoy and Antonio Costa. Greek Premier Alexis Tsipras too sent his condolences.
"I strongly condemn the Manchester attack. We share the pain of the British people," Turkish President Recep Tayyip Erdogan said.
In a letter to his British counterpart, Theresa May, Bulgarian Prime Minister Boyko Borisov wrote: "I believe that with the joint efforts of British authorities in collaboration with the governments of ally and partner countries, the perpetrators of this monstrous act will be revealed and will bear their deserved punishment."
Some world leaders seemed to use the tragedy for daily politicking, however. Iranian politician Mohsen Rezaei, a former commander of the Revolutionary Guard, tweeted: "Terrorist explosion in Manchester is the result of Trump's sword dance with the chief of terrorists."
Hungarian Prime Minister Viktor Orban, a right-wing populist, was quoted on the 24.hu news website as saying: "I was deeply disturbed by the scandal that happened last night in Manchester, a terrible bombing that killed many young people. There are series of attacks on Europe that are a major shock to us all, so we must do everything we can to restore the continent's security."