Assange timeline: Life under siege in London's Ecuadorian Embassy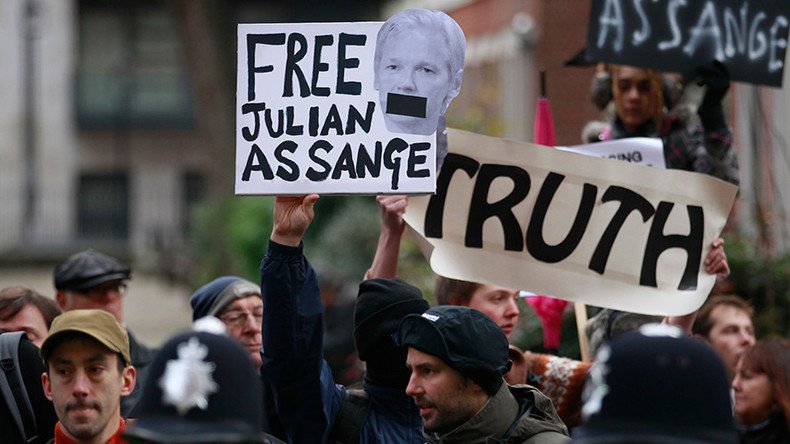 As Swedish prosecutors withdraw the last remaining allegation of rape against the WikiLeaks editor, RT takes a look at Julian Assange's time in London's Ecuadorian Embassy.
Since entering the mission in Knightsbridge in 2012, the WikiLeaks editor has resisted repeated attempts to dislodge him by political opponents, survived disruptions to his lifeline – the internet – received high-profile guests and even acquired a cat.
June 2012
Having been placed under effective house arrest over four allegations of rape and sexual assault, and staying at the Norfolk estate of journalist and former British Army officer Vaughan Smith, Assange jumped bail to enter the embassy.
Assange believed, and still maintains, that the charges were contrived and would be used by the UK to arrest and extradite him to Sweden, from where he would be vulnerable to further extradition to the US, where he would likely be put on trial and imprisoned for leaking US secrets.
Ecuador granted him full asylum in August that year.
The UK government briefly threatened to enter and arrest Assange, drawing condemnation from the Ecuadorian government.
2014
Assange announced he was leaving the embassy in 2014 in what proved to be a false start.
WikiLeaks spokesperson Kristin Hrafnsson told the press at the time: "The world is not coming to an end. The plan, as always, is to leave as soon as the British government decides to honor its obligations in relation to international agreements."
Assange himself said: "I am leaving the embassy soon ... but perhaps not for the reasons that [the] press are saying at the moment."
However his grand exit did not occur despite rumors that his recurring health issues, which Assange claimed were derived from his incarceration, were fueling his desire to leave.
2015
The police guard outside the embassy was maintained from 2012 to 2015 at a reported cost of over £12 million (US$15.6 million).
Costs were often used both to attack Assange and to call into question the need to keep him in the embassy by critics and supporters respectively.
Officers were withdrawn in 2015, but the Metropolitan Police warned that they had put a number of covert and overt methods in place to alert them if Assange did leave the embassy.
In the same year, Assange published an open letter in the French newspaper Le Monde to then-President Francois Hollande, urging the leader to grant him asylum.
This was quickly turned down.
2016
WikiLeaks announced that a state party had severed Assange's internet connection.
This was later reported to have been done by the Ecuadorians themselves to limit the impacts of WikiLeaks' alleged interference in the US election. The connection was later restored.
Detained for 7 years without charge by while my children grew up and my name was slandered. I do not forgive or forget.

— Julian Assange (@JulianAssange) May 19, 2017
2016 also saw the arrival of Embassy Cat, Assange's pet, who has his own Twitter account, which states the feline is "interested in counter-purrveillance."
2017
Assange received a number of high-profile visits, including from former Baywatch star Pamela Anderson, who pledged that she would campaign for men falsely accused of rape.
A pre-recorded interview from 2012, in which pop star Lady Gaga interviewed the Australian about the plight of whistleblower Chelsea Manning, was released in 2017.
In April 2017, former UKIP leader Nigel Farage also slipped into the embassy for a visit.
The populist politician's visit was rumored, though never confirmed, to have been a part of back-channel communications between the WikiLeaks editor and President Donald Trump, with whom Farage is well acquainted.
This year also saw Assange threatened by a candidate in the Ecuadorian presidential election.
Right-wing hopeful Guillermo Lasso pledged to kick the hacker out of the embassy if he won. He ended up losing to leftist Lenín Moreno.
You can share this story on social media: