Thought your commute was bad? Swarm of bees descends on rush-hour London
Published time: 17 May, 2017 15:29
Edited time: 19 May, 2017 10:38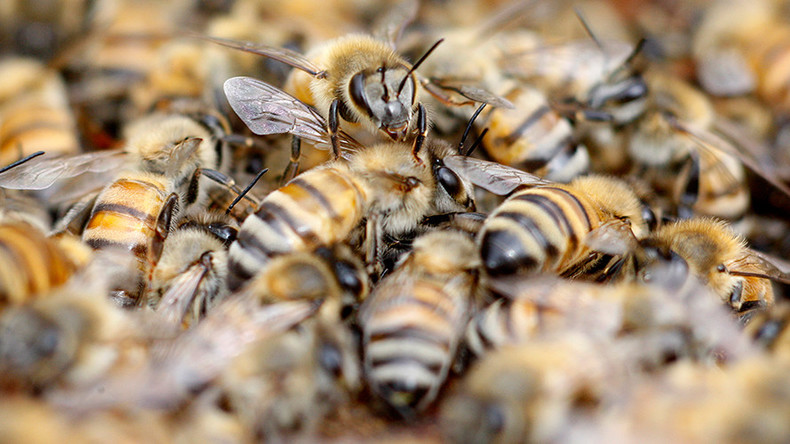 A huge swarm of bees brought rush hour to a standstill in Greenwich, southeast London, on Tuesday night.
Thousands of bees caused frightened pedestrians to duck for cover on Greenwich Church Street, close to the famous Greenwich market.
Footage posted on social media shows a "biblical scene" of insects buzzing around, with onlookers bringing traffic to a standstill.
Abigail Hering, who posted the footage on Twitter, said she saw the bees congregating around the traffic lights as she left her nearby Beadoir jewelry shop.
"When I left work, I went to walk towards my car, they were on the traffic lights.
"Millions of them on the traffic lights. And then at that point they'd come lower so they were actually buzzing around the people," she said, according to the Daily Mirror.
"And while I was videoing them I looked down and I could see literally the front of me covered in bees. They were on me.
"They were on everybody. They were in your hair, on your top."
Hering, who claims the spectacle of the buzzing swarm lasted for at least an hour, said she found the whole incident "quite exciting."
Others found the swarm "hideous."
Phil Clarkson, from Brockley Bees, said although no one was stung, people were "understandably" concerned.
"But then when we talked to people and explained to them that actually a swarm is very benign, the likelihood of getting stung is very, very rare, and in most cases it's only when people swat them or squash them on their body that the bee will sting them."
Transport for London (TfL) Traffic News tweeted a picture of the bees resting on the traffic lights.
"Greenwich #Beetime," it joked.
"The pedestrian crossing on Greenwich one way system is partially obstructed by bees. Please approach with caution."