BBC reporter slapped after accidentally groping woman who interrupted live interview (VIDEO)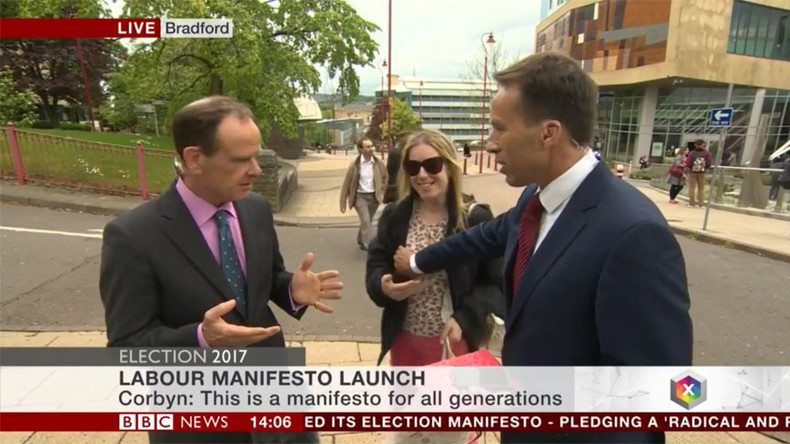 BBC journalist Ben Brown left some on social media bemused after being filmed accidentally groping a woman's breast as she gatecrashed his live interview.
The footage shows Brown interviewing the BBC's assistant political editor, Norman Smith, about Labour leader Jeremy Corbyn's manifesto before they are interrupted by a woman who jumps into the frame.
In a bid to keep her from interrupting the live broadcast, Brown pushes the woman backwards, without realizing his hand is on her breast.
The woman at first looks startled, before slapping Brown on the shoulder and walking away.
Brown and Smith continued their discussion without so much as a blink, but the footage was soon picked up by social media users, who took to Twitter to blast the reporter.
One mocked Brown saying the BBC stands for the "Big Breast Cupping".
Others were shocked by the apparent assault.
Some even called for the BBC reporter to be fired.
Brown himself later tweeted that the groping was "completely unintentional," and justified his actions by saying he was trying to "minimise disruption" of a live broadcast.
Not everyone was satisfied with the explanation, however.