'Serious mistake': EU's Juncker condemns leaks on disastrous Brexit Downing Street dinner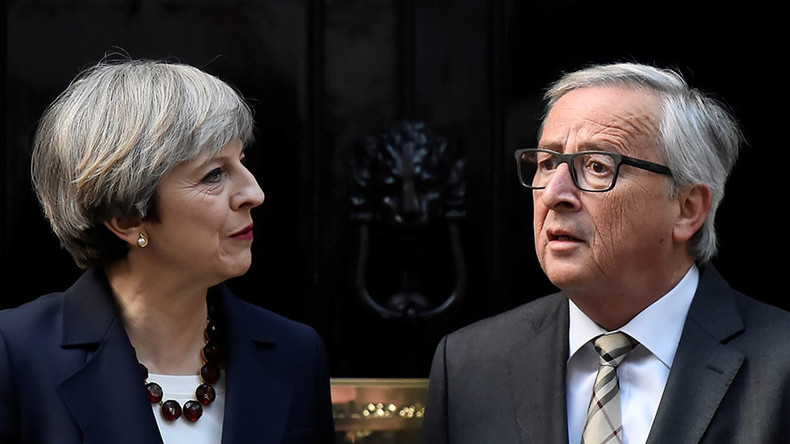 European Commission President Jean-Claude Juncker has condemned last week's damning leaks of his meeting with UK Prime Minister Theresa May as a "serious mistake."
Juncker said he regretted the public disclosure of details of his meeting with May on April 26, but claimed he was not responsible for the reports leaked to a German newspaper.
"I am very talented with regard to self-criticism but I do not want to saddle myself with that," he said in an interview with German newspaper Handelsblatt published on Tuesday.
According to the leaks, the EU official left Downing Street "ten times more sceptical," and said that May is "delusional" over Brexit.
The leaks reported May as saying "let us make Brexit a success," to which Juncker responded: "Brexit cannot be a success."
It was also reported that May had been warned that negotiations cannot start until the UK agrees to foot a £60 billion ($77.6 billion) divorce bill.
The PM, however, dismissed accounts of her dinner with Juncker being disastrous as "Brexit gossip," and claimed instead the two parties had had "constructive" discussions.
"From what I have seen of this account, I think it is Brussels gossip. Just look at what the European Commission themselves said immediately after the dinner took place, which was that the talks had been constructive," the prime minister told reporters on the campaign trail in Lancashire.
"But it also shows that actually at times these negotiations are going to be tough. And in order to get the best deal for Britain we need to ensure that we've got that strong and stable leadership going into those negotiations."
Tensions between the parties, however, heightened as May then accused the EU of issuing "threats" to influence the results in the upcoming general elections.
"Britain's negotiating position in Europe has been misrepresented in the continental press," she said in a meeting following a visit to the Queen to announce the dissolution of Parliament.
"The European Commission's negotiating stance has hardened. Threats against Britain have been issued by European politicians and officials. All of these acts have been deliberately timed to affect the result of the general election," May said.
"I am getting on well with Theresa May, contrary to what has been reported in recent days," Juncker said, in an apparent bid to ease tensions.
"She is a tough lady… but we do not have the same opinion.
"In this regard, love has natural limits."
It follows the very same Juncker calling German Chancellor Angela Merkel the morning after the infamous meeting to tell her that May is "living in another galaxy" and that she is "totally deluding herself."