'Praise God it's not Russia this time!' Embassy trolls May over Brussels election meddling claim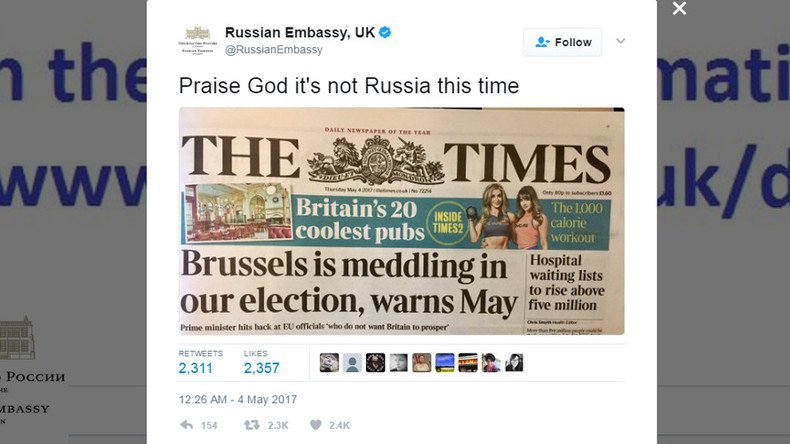 The Russian Embassy in London used Theresa May's claim that Brussels is interfering in the British general election as an opportunity for some gentle twitter trolling that was too good to miss.
The embassy mocked May's allegations by tweeting: 'Praise God it's not Russia this time' next to a picture of the front page splash on Thursday's Times.
Russia has faced a string of allegations of interfering in the US, French, and German elections. There were even reports in Britain of the authorities preparing to take on Russian hackers, while at the same time admitting there was no proof they actually existed.
May, however, launched her most scathing attack on Wednesday – not against Moscow, but against Brussels. She accused certain unnamed figures of not only meddling in the upcoming general election, but also attempting to tear Brexit negotiations and Britain's economy apart.
"The events of the last few days have shown that whatever our wishes and however reasonable the positions of Europe's other leaders, there are some in Brussels who do not want these talks to succeed, who do not want Britain to prosper," she said in a speech outside Downing Street.
The prime minister pointed to last week's leaks following a dinner she hosted for EU Commission President Jean-Claude Juncker, saying they had interfered with election campaigns as they "misrepresented" her in the "continental press."
According to the leaked reports, Juncker had left Downing Street "ten times more sceptical" than before.
You can share this story on social media: