'Militaristic, Russophobic rhetoric' must stop, top Russian senator tells Tories after nuclear spat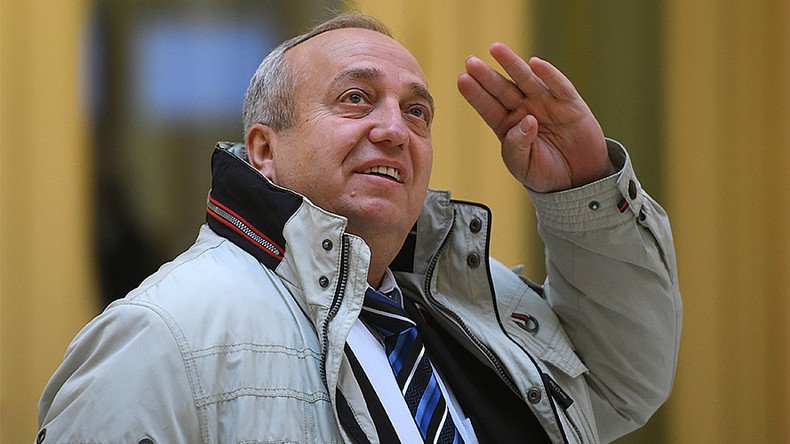 A senior senator in the upper house of the Russian parliament has called on UK Defense Secretary Michael Fallon and the Conservative Party leadership not to use scaremongering about Russia as an election tool.
Franz Klintsevich, the first deputy chairman of the Federation Council's Committee for Defense and Security, told RT that British ministers should use "compromise and dialogue" not "militarism and Russophobia" in their general election campaign.
Klintsevich was referring to a string of controversial comments from top Tories in relation to Russia, which he says were attempts to "look tough before the general elections."
Specifically, the senator blasted Tory Defense Secretary Michael Fallon, who made a highly publicized trip to Estonia to personally oversee the deployment of some 800 British troops to the Russian border as part of a NATO mission.
During the trip Fallon called Labour Party leader Jeremy Corbyn "feeble and gutless" for voicing concerns that NATO expansion may elevate tensions with Russia.
The defense secretary claimed Russia will try to meddle in the election in order to prevent the Conservative Party from winning.
Earlier, GCHQ, Britain's cybersecurity agency, was placed on high alert to prevent alleged Russian interference.
Fallon later claimed the UK is prepared to "use nuclear weapons as a first strike" in "extreme circumstances," but refused to elaborate on the potential target of an attack or what constitutes "extreme circumstances."
Klintsevich cautioned the defense secretary against "reckless saber-rattling," but also expressed hope the British electorate "will see through these classic political machinations."
The senator reiterated a previous statement that Fallon's nuclear threats "should be treated seriously and warrant a tough response."
Russia possess 7,300 nuclear warheads & plans to expand capability. Klintsevich criticized Fallon's threat as empty.https://t.co/cj2UJI7mK9

— Buddy Stone (@buddystone) 26 April 2017
"If the threat is directed against Russia or China then it is a simple fact that Britain will not be able to withstand an appropriate response from another nuclear power.
"In view of the recent modernization of the Russian military, such claims are simply unprofessional. Someone should remind Mr Fallon that it is not the 90s anymore, when Russia was weak and unable to oppose the Western powers.
"It is ironic that Western officials constantly accuse Russia of some imaginary aggression, whilst themselves expressing such trigger-happy views on nuclear weapons," Klintsevich told RT.
"Russia has consistently called for dialog and a resumption of normal relations with Europe and the US, but only on equal terms," he added.
The senator lamented the emergence of what he called "Russophobic political theater, which has unfortunately become an indispensable part of election campaigns in the West."
He also rejected the idea of Russian involvement in the UK and US elections, citing "the consistent failure of Western security agencies to present any tangible proof of this fact."
Klintsevich then scolded the Conservatives over the campaign mounted against opposition leader Corbyn, who was accused of "collaborating with Russia" by Tory Armed Forces Minister Mike Penning.
"It is frustrating that the leading British politicians apparently need lecturing on the importance of tact and graciousness in politics and diplomacy.
"Calling the leader of the opposition a 'collaborationist' simply because he expressed a different point of view from the establishment's militarist stance vis-a-vis Russia is utterly inappropriate and counterproductive."
Klintsevich, however, refused to endorse any specific British political party in the June 8 general election.
"I just hope that the British people will be able to see through these political machinations and biased coverage of Russia in the media.
"Ultimately, I believe that the principles of liberal democracy will prevail in the UK, as I firmly believe that the British people harbor no hostility towards Russia.
"The only advice I can give to Mr Fallon and the Conservative Party is to abandon the militarist and Russophobic rhetoric, as it may eventually drive electorate away, costing them the elections," Klintsevich added.
You can share this story on social media: