Saudi-led coalition 'bombing hospitals, violating rights of children' in Yemen – report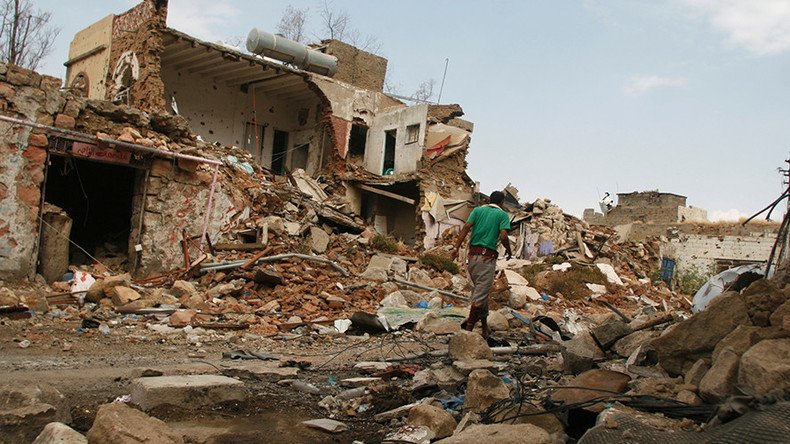 The Saudi Arabia-led coalition in Yemen, backed by the UK, must be put on a UN violations list for repeated attacks on medical facilities and violating the rights of children, a new report says.
The report, by Save the Children and Watchlist on Children and Armed Conflict, documents a series of deadly coalition-led attacks on hospitals and medics over the past two years.
In one case, two infants in incubators died from a lack of oxygen after a pediatric hospital in the capital Sanaa was damaged in a coalition airstrike.
More than 160 attacks have been carried out by parties to the conflict throughout Yemen, the report says, including the damaging of medical facilities through airstrikes, occupation and looting of hospitals, and extortion, detention and killing of medical staff.
The conflict has forced more than half of Yemen's medical facilities out of action, leading to the "near collapse of the country's already fragile healthcare system." The report says those that remain face severe shortages of medicine and equipment in the face of a maritime block imposed by the coalition.
"In the past two years, an increase in conflict and targeted attacks on medical facilities and personnel have led to more children directly injured, suffering and dying from preventable conditions, including acute malnutrition, acute respiratory infections and diarrheal disease."
Britain has come under frequent criticism for continuing to supply arms to Saudi Arabia amid reports of repeated atrocities in Yemen. The UK has made more than £3 billion ($3.6 billion) from arms sales since the military campaign began in March 2015, which has seen 11,000 Yemeni civilians killed.
Britain has supplied fighter jets, bombs and missiles to Saudi Arabia, and provided training to Saudi pilots participating in the war.
Grant Pritchard, from Save the Children in Yemen, said: "For two years bombs have been landing on hospitals, homes and schools.
"On the ground our teams are helping children who have been physically and mentally scarred, and are supporting hospitals that are now forced to hold damaged incubators together with sticking tape.
"All parties have been responsible for the unnecessary deaths of children in Yemen, and the Saudi Arabia-led coalition is among them. Those responsible must be held to account."
The report calls on all parties to the conflict to immediately cease attacks against medical facilities, and for UN Secretary General Antonio Guterres to add the Saudi Arabia-led coalition to his list of those responsible for grave violations.
In 2016, then-Secretary General Ban Ki-moon briefly listed the coalition for killing children and attacking schools and hospitals in Yemen. He later removed it from the list after pressure from Saudi Arabia.
Appearing on the list is an international embarrassment. Those on it can usually only be removed after meeting UN verified benchmarks for ending and preventing violations.
You can share this story on social media: