Car ploughs into 4 vehicles before passenger flees with dog (VIDEO)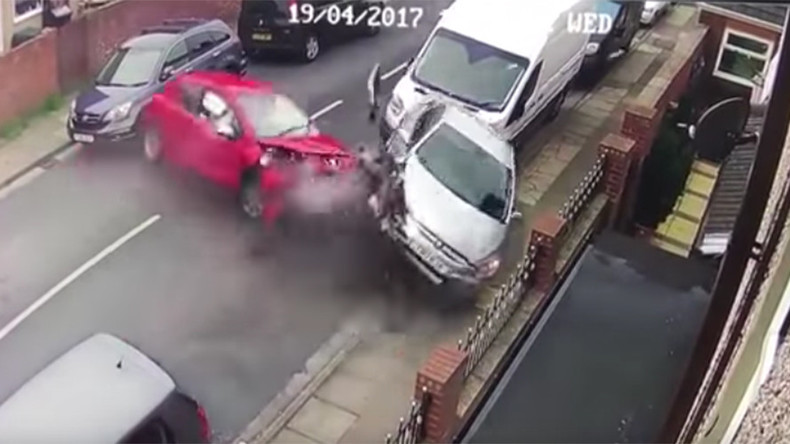 Dramatic footage has been released showing a car speeding down a quiet residential street and ploughing into four vehicles – totaling two of them – before the passengers and their dog walk away from the wreckage.
A red Peugeot 308 is seen crashing and spinning 180 degrees at high speed into parked vehicles on the narrow street in Grimsby, Lincolnshire, on Wednesday night, just 20 seconds after a cyclist had passed the spot.
A man in red shorts, believed to have been driving the car, calmly leaves the vehicle and flees the scene. A woman and another man with a dog also get out of the car.
They then reportedly flagged down a vehicle to ask for a lift, witnesses told the Grimsby Telegraph.
Residents rush to the scene after hearing the crash and car alarms. They can be seen gathering around, with some pointing and shouting at the driver as he ran off.
Stewart Wilson, a bassist in a local band whose van was damaged in the incident, said he saw the red car come down the usually quiet street "at such speed."
"It hit the convertible, a Peugeot, and then spun around, hitting at least three or four others."
Eyewitness Sarah Usher said "My mum saw this car go past while she was walking my two-year-old son to the shop, sickens me to think this could have hit them."
Police investigations are ongoing.