British MPs want to strip Assad's wife of UK citizenship – reports
Published time: 16 Apr, 2017 18:00
Edited time: 10 Aug, 2018 14:21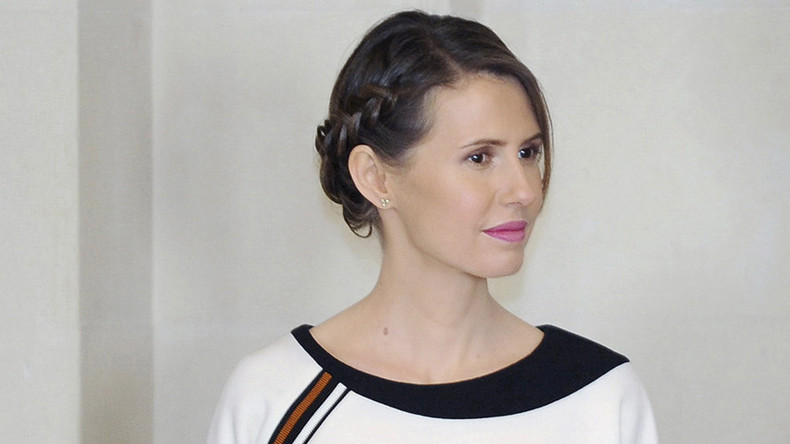 The British-born wife of Syrian President Bashar Assad may have her citizenship revoked due to a social media post in which she accused western countries of lying about the use of chemical weapons by her husband.
British MPs have put forward a suggestion to deprive Asma Assad – who hails from west London – of her British citizenship, after one of her social media posts that blamed western media of lying and propaganda stirred too much controversy, according to the Sunday Times.
"The time has come where we go after [President] Assad in every which way, including people like Mrs. Assad, who is very much part of the propaganda machine that is committing war crimes," Nadhim Zahawi, a Conservative MP on the Commons foreign affairs committee, told the newspaper.
The Lib Dems are planning to file a letter to the Home Office officially stating their request to consider the matter.
"If Asma continues defending the Assad regime's murderous actions, the onus will be on the UK Government to deprive her of her citizenship," the letter seen by The Telegraph says.
The party is also reportedly pushing for a debate considering Asma Assad's citizenship next week in the House of Commons.
The question was raised after Assad's wife posted a photo accompanied by text which came in response to the US missile strike on a Syrian airfield. The attack killed 14 people, including 9 civilians.
"The presidency of the Syrian Arab Republic affirms that what America has done is an irresponsible act that only reflects a short-sightedness, a narrow horizon, a political and military blindness to reality and a naive pursuit of a frenzied false propaganda campaign," Asma Assad, who holds dual British-Syrian nationality, wrote.
The strike was purportedly in retaliation for the Syrian government's assault on a rebel-held town in north-western Idlib province, allegedly carried out with the use of chemical weapons.
Damascus has denied any such allegations, adding that its air forces attacked an arms depot where chemical weapons might have been stockpiled by Islamic State (IS, formerly ISIS/ISIL) and al-Nusra Front militants.
The social media accounts of the Syrian first lady on Instagram, Facebook and Telegram have around 500,000 followers in total.
Asma Assad is already the subject of European Union sanctions, barring her from visiting the EU, except for the UK.
The UK MPs' demands are based on the British Nationality Act that outlines the possibility of citizenship deprivation in case a person poses a threat to "the public good." The provision was enforced in June 2006 and is only applicable to people with dual-citizenship, since a person can't be left stateless.
There have been around 40 cases of citizenship deprivation under the act in Britain since 2010, mainly against terrorist suspects.