British woman stabbed to death by Palestinian in Jerusalem on Good Friday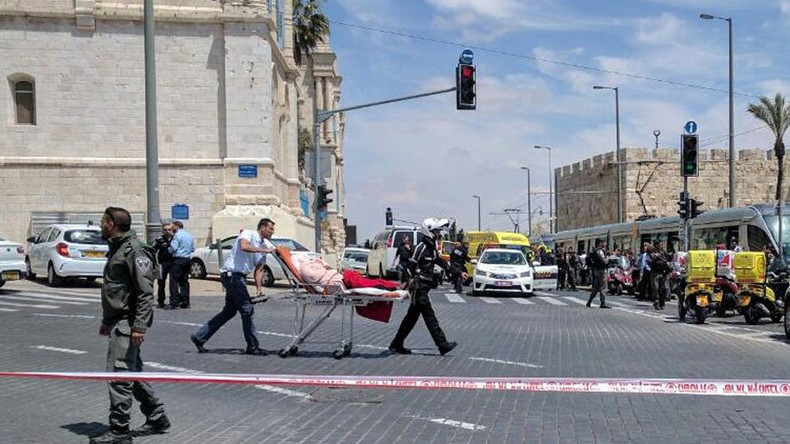 Hannah Bladon, a 21-year-old British exchange student was fatally stabbed in Jerusalem on Friday afternoon, reportedly by a Palestinian man with a history of mental illness and sexual abuse. The suspect has been apprehended.
"Radical Islamic terrorism is striking world capitals. Regretfully, terrorism struck today in Israel's capital – Jerusalem," said Prime Minister Benjamin Netanyahu in a statement. "A Palestinian terrorist murdered in cold blood... a British citizen. In the name of all the People of Israel, I send my condolences to the family of the victim."
The incident took place on the city's light rail network. The attacker reportedly stood up from his seat, pulled out a knife and stabbed Bladon without warning.
The woman received wounds to her upper body and was initially in critical condition, Magen David Adom, an Israeli emergency services company, wrote on Twitter.
Later the city's Hadassah University Medical Center told the Jerusalem Post that Bladon had died of her wounds.
Bladon was a theology student at the University of Birmingham in the UK, who had begun her guest studies at the Hebrew University, which confirmed her identity to the media, in January.
The British embassy told the Guardian that it was in touch with local authorities following the incident, but didn't comment beyond that.
MDA EMT Zeevi Hanfling "Police officers led me into the train where a young girl was lying unconscious W stab wounds 2 her upper body part."

— Magen David Adom (@Mdais) April 14, 2017
Two more people were also injured in the incident, the Jerusalem Post said. A 50-year-old man was wounded when he tried to flee the scene, while a pregnant woman suffered an injury to her stomach when the light rail train made an abrupt stop. Both victims were transported to Shaare Zedek Medical Center in Jerusalem.
The Shin Bet domestic security service agency said that the suspect was identified as Jamil Tamimi, 57, a Palestinian from Arab East Jerusalem, Reuters reports. He was apprehended by officers and taken for questioning.
"It is one of many instances where a Palestinian suffering personal strife ... chooses to carry out an attack in order to find release for his problems," the Shin Bet statement said, as cited by Reuters.
Tamimi is a Palestinian from Arab East Jerusalem who was charged with sexual assault against his daughter back in 2011, Shin Bet said.The man also previously attempted to commit suicide by swallowing a razor blade, it added.
The attack took place on Good Friday, a Christian holiday commemorating the crucifixion of Jesus Christ. On this day many Christians flock to Jerusalem to join a procession in the Old City. According to tradition, the area is where Christ walked on the way to being crucified.
There has recently been a rise in the number of attacks committed by Palestinians in public places in Jerusalem and the Israeli-occupied West Bank. According to Israeli authorities, the current spate of violence began on September 13, 2015.
Since that date, 48 people have been killed in terrorist attacks and 713 people, including four Palestinians, have been injured.
There have been 174 stabbing attacks and 113 attempted stabbings, 143 shootings, 57 vehicle ramming attacks and one bus bombing, the Israeli Foreign Ministry reported.