Boris Johnson under pressure at home & abroad over failed Russia sanctions push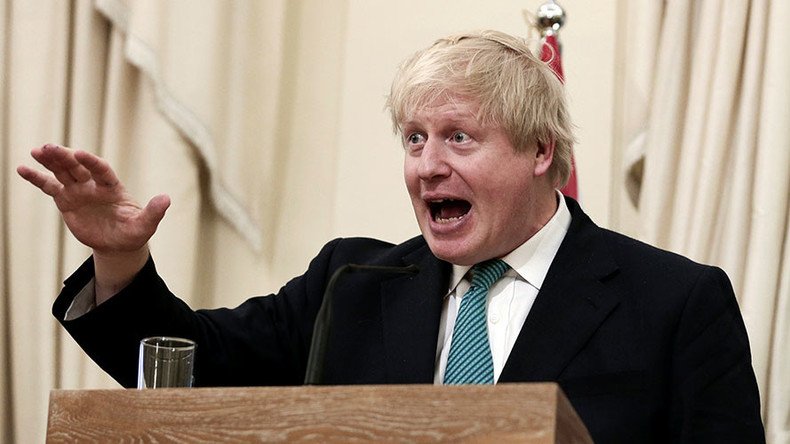 British Foreign Secretary Boris Johnson is insisting Russia could still be hit with tough sanctions over its support for Syria, after his ministerial colleagues attacked him for failing to get backing from international partners.
Earlier this week Johnson announced he was leading a drive at the G7 summit in Italy to impose "very punitive sanctions" on the Kremlin, only to see the foreign ministers of Italy, France and Germany publicly and embarrassingly rebuff his plan.
"The question wasn't mentioned by anyone except Boris Johnson but we didn't talk about it any further," Jean-Marc Ayrault, the French minister, said.
Italy's Angelino Alfano added that, "We must have a dialogue with Russia and we must not push Russia into a corner. There is no consensus on additional new sanctions as an efficient instrument to deliver the goal we are aiming for."
A communique issued by the G7 made no mention of sanctions. G7 ministers did agree to push for an investigation into the suspected chemical attack in Idlib which triggered the current standoff, however Russia and Iran, allies of Syrian President Bashar Assad, had already said they would welcome one.
A government source told the Telegraph that the failure to secure an agreement on sanctions, which came on top of Johnson cancelling a trip to Moscow, had been a "total let down."
"He is now persona non grata with Russia, they won't take him seriously," the source said.
"He has blown his bridges with them by canceling [a visit] for the third time. We have no credibility with the Russians and no additional credibility on the world stage following the G7. This has been a very negative experience."
The source claimed there are increasing tensions between Johnson and Downing Street over his handling of the crisis.
"It's a very difficult moment for him. It was a play to increase his influence, but it has backfired."
Number 10, however, has insisted Johnson has Prime Minister Theresa May's support.
"We are in a stronger position now than we were at the weekend because there is now agreement that Assad must go."
A spokesperson for Johnson said criticism of him was "completely short-sighted and wrong" because Russian and Syrian military figures would still face sanctions if an independent investigation proves Assad was to blame for the chemical attack.
Johnson on Tuesday downplayed suggestions that Russia knew of the alleged chemical attacks in advance, just days after Defence Secretary Michael Fallon said Putin was responsible for the attacks "by proxy."
"Did they know that Assad was going to unleash chemical weapons? We have no evidence for that, we don't know whether the Russians were involved at all," Johnson said.
He insisted the option of sanctions remained on the table and said there would be an investigation by the Organization for the Prohibition of Chemical Weapons.
"After that, if of course we can find people, whether they are Syrians or whether they are Russians involved in the Syrian military operation, it is in my view wholly appropriate that they should face economic sanctions or sanctions of some other kind."
Johnson a liability for Britain - Labour
Labour has called Johnson a liability for the UK, saying he "undermines our credibility" and has used "poor judgment" on dealing with Russia.
Labour's Shadow Chancellor John McDonnell said Johnson had erred in canceling at the last minute a planned trip to Moscow to meet his counterpart Sergey Lavrov, instead focusing on the G7 meeting.
"The idea of going along to the G7 to try and put together a coalition around sanctions was never going to succeed. It was a bad policy decision by Mr. Johnson. It should have never happened," he told Sky News.
"He should have gone to Moscow. When he went to Moscow he should have been clear with the Russians just how much we condemn what Assad has done, and what they've done in support of Assad, but try to get them back to the negotiating table.
"I'm hoping the initiative now by the Trump regime and others is going to enable that to happen. It's a pity Mr. Johnson made such a poor judgment on this matter."
McDonnell argued that May, who is on a walking holiday in Wales with her husband, should have taken full charge of the situation.
Former Foreign Secretary Alistair Burt has defended Johnson, saying efforts should be focused on ending the Syrian crisis and not an "intergovernmental spat."
"I'm disappointed that there is this focus. He's trying to do an extremely difficult job in circumstances that changed markedly because of the American response to the chemical strike the other week," Burt told the BBC.
"What is most important here is that we try and find a way to end this conflict in which one out of two Syrians have [sic] either died or been displaced.
"It is going to be very difficult, it does involve difficult and distasteful calculations perhaps with Russia and Iran. But the main focus should not be on an intergovernmental spat about whether or not Boris Johnson has been humiliated."
Burt conceded that in the "best of all possible worlds" Johnson would have sought the agreement for fresh sanctions before publicly calling for them.
You can share this story on social media: