Police hold children at gunpoint in Muslim house raid (VIDEO)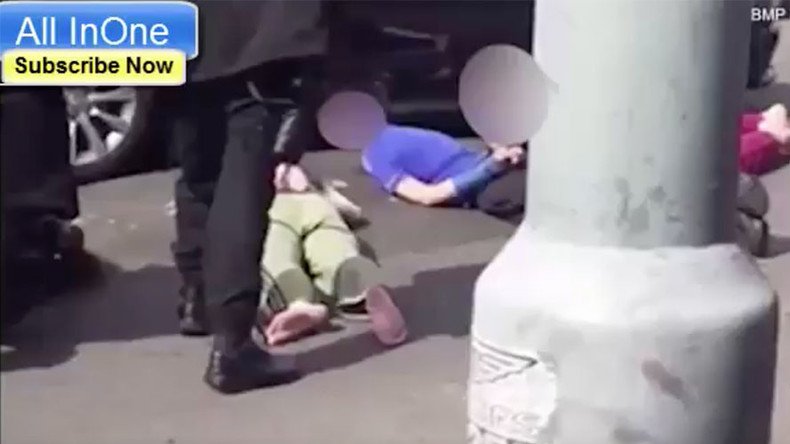 Shocking footage has emerged showing police raiding a house in Birmingham and pointing machine guns at handcuffed children as young as 15.
The mobile phone footage shows armed officers storming the property on Pretoria Road before leading the youngsters out and forcing them to lie face down on the floor.
One of the children can be seen barefoot while some were still in their pyjamas when they were forced out of the house, according to one witness.
A West Midlands Police spokeswoman said the raid was carried out following reports of an armed man in the area.
The children's 37-year-old mother said she had "no idea" what was happening.
"I left the house just before 12 yesterday afternoon to go and pay some bills down the road, and left my children in the house as they're on holidays.
"When I was coming back I saw a police van just over the bridge, at the end of my road," she said, the Daily Mail reports.
She said police approached her and asked her where she lived and what was in her house.
"But then they started to grab me by the wrist and try and drag me towards the van, which was when I realized that it was serious.
"They wanted to search me, but that's against my faith.
"I'm a practicing Muslim, and I wasn't willing to be touched and searched by a male police officer, so we had to wait for a female officer to come and do it."
The mother-of-four said police gave no explanation or apology after her house was "ransacked" and that she feels "very mistreated."
"It's disgraceful … what happened to my children was shameful. They were treated like animals," she added.
"It could have something to do with my religion. I do experience discrimination, rude comments when I'm walking down the street and that sort of thing.
"I was wearing my hijab and a long black dress when it happened, so I think that might have had something to do with it – I wouldn't be surprised.
A West Midlands Police spokeswoman said: "Police were called to reports of a man believed to be carrying firearms in Pretoria Road, Bordesley Green, at around 10:50am.
"Officers and the police helicopter attended the scene but despite a thorough search no firearms were recovered and no arrests were made," she said, according to the Birmingham Mail.
"[It] appears that a call was made with good intent."
You can share this story on social media: