'Top cop': Thousands attend funeral of police officer killed in Westminster attack
Published time: 10 Apr, 2017 09:37
Edited time: 11 Apr, 2017 12:12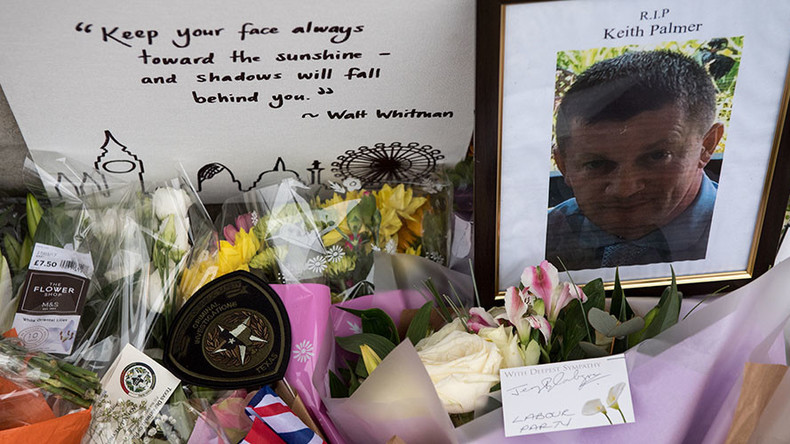 The funeral of PC Keith Palmer, the police officer who was killed in the line of duty during the Westminster attack, takes place on Monday at London's Southwark Cathedral.
The 48-year-old officer was stabbed by Khalid Masood on March 22 while on guard at the forecourt of the Palace of Westminster.
Palmer, leaving behind a wife and a five-year-old daughter, will be given a full police funeral, a service which will see up to 2,000 Metropolitan Police Service officers patrolling and in ceremonial roles.
According to Scotland Yard, full services are usually only given to those who die in service.
The Queen gave special permission for Palmer's body to lie overnight at Westminster's Chapel of St. Mary Undercroft, which is usually only reserved for heads of state.
His family attended the Chapel on Sunday for a short private service, while police officers paid their respects to their fallen colleague throughout the night.
The cortege will start off from Westminster via Lambeth Bridge to Southwark Cathedral for a service at 2pm.
Ken Marsh, chairman of the Metropolitan Police Federation, hailed Palmer, who served in the Met for 15 years, as a "hero" and an "absolutely top cop."
Speaking on BBC's Radio 4, he also said although much still had to be answered regarding police responses to such attacks, he did not think it would have made any difference if Palmer had been armed when Masood assaulted him.
"If you could paint a picture of a perfect policeman you'd be painting a picture of Keith Palmer," PC Shaun Cartright, who had been Palmer's colleague for eight years, told Sky News.
"One of the kindest people you will ever find. Very giving, very loyal, a true friend and a fantastic policeman."
The funeral will be the first engagement for the new Met Police Commissioner Cressida Dick, who was appointed in February and is due to start her new job on Monday. She will be the first woman to head the UK's largest police force in its 188-year history.
Four members of the public were also killed by Masood when he mounted the pavement on Westminster Bridge and ploughed his rented 4x4 Hyundai Tucson into pedestrians.
Victims of the 82-second attack include London sixth-form college teacher Aysha Frade, 44, and South London window cleaner Leslie Rhodes, 75.
Kurt Cochran, 54, an American tourist celebrating his 25th wedding anniversary, was also killed. Romanian Andreea Cristea, 31, died on Thursday last week after succumbing to injuries sustained when she fell from Westminster Bridge during the attack.
Masood, who was shot by police moments after he killed Palmer, was already known to intelligence services over extremist concerns, but Prime Minister Theresa May said he was just a "peripheral figure."