Thugs who tortured pensioners with boiling water arrested on arrival at Heathrow (VIDEO)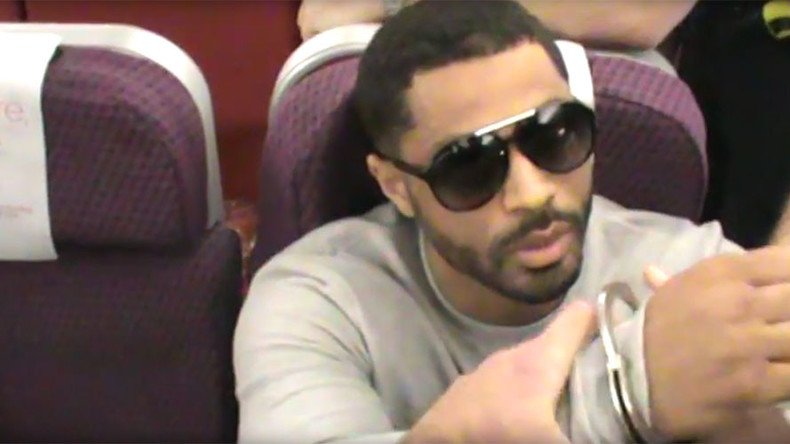 The moment police boarded a plane to arrest two "barbaric" burglars who poured boiling water over an elderly couple after breaking into their home has been caught on camera.
Footage shows police boarding the plane as it arrived at Heathrow Airport to arrest Daniel Wallace, 33, and Kacey Adams, 34, as they returned from a spending spree in Dubai after their £50,000 (US$62,200) raid.
Their luggage was found to contain more than £18,000 of luxury goods.
Sentenced to life in prison on Monday, Adams and Wallace broke into their victims' home in Halstead, Kent, last April. The pair tied up John Buswell, 66, and his wife Janis, 64, with cable ties before repeatedly assaulting them and demanding money.
They subjected the couple to a nearly two-hour ordeal where they beat them and poured two kettles of boiling water over them, Chelmsford Crown Court heard. They also threatened to cut off Janis Buswell's finger and gouge out one of her eyes.
The court was told the pair repeatedly punched John Buswell in the face and threatened to cut off his ears. They also threatened the couple with a knife and a hot iron.
The two defendants, along with a third man who has not been caught, made off with around £50,000 after the attack last year.
In a victim impact statement, Janis Buswell said, "What these criminals did to me was barbaric."
"This will affect me every day for the rest of my life. The injuries I have suffered have left me permanently disfigured. I now have no confidence in myself and feel worthless and can't even do the simplest of things."
Her husband stated that "They have destroyed my life and wife's too. I'm physically and mentally scarred, not just from the attack, but from seeing her being tortured and then in a coma fighting for her life."
Both men were described by Judge Charles Gratwicke as "highly dangerous, ruthless professional criminals prepared to use serious violence," as he sentenced them on Monday. He said they had used "gratuitous violence for no reason at all," according to the Evening Standard.
Both men admitted to aggravated burglary and two counts of grievous bodily harm after subjecting their victims to the "most horrific ordeal."
They were also sentenced over a tit-for-tat drive-by shooting, after being found guilty of conspiracy to murder following an earlier trial.
Both were sentenced to life in prison. They must serve a minimum of 12-and-a-half years before being considered for release.
You can share this story on social media: