Tony Blair attacks Corbyn's 'ultra-leftist' Labour for failing to oppose Tories
Published time: 4 Apr, 2017 10:42
Edited time: 5 Apr, 2017 10:30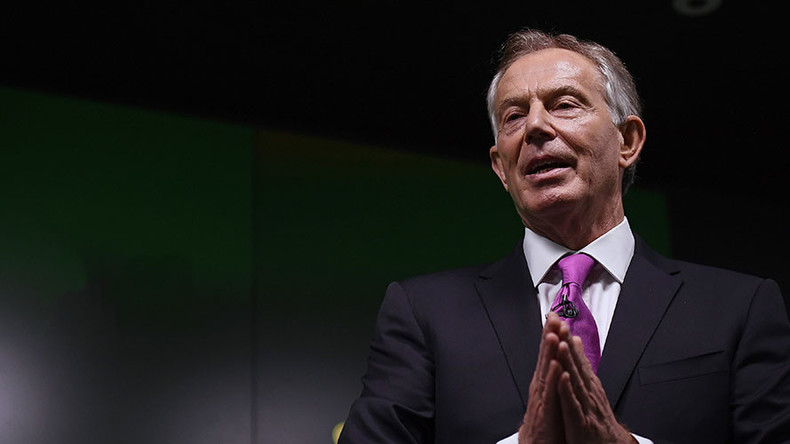 Former Prime Minister Tony Blair has hit out at what he says is Labour's failure to meet its "fundamental duty" to hold to account the Tory government and fulfil the role of a "competitive opposition."
Blair said Labour leader Jeremy Corbyn's "ultra-leftist" takeover is keeping the party from claiming power and performing effectively.
"We [have] failed in what is our fundamental duty to the British people, that is to be a competitive opposition.
"Ask yourself one simple question. In the prime minister's office, in Tory high command, how much of their time do they spend worrying about the prospect of a Labour victory at the present time? I would guess zero," he told Progress magazine.
Speaking during an interview with Labour MPs Wes Streeting and Ruth Smeeth, Blair said the party should make the Tories "wake up every morning and fear us."
Blair said in order for Labour to regain momentum, "the ultra-leftist thing […] definitely had to be laid to rest."
But the party also has to regain the public's trust by showing it has "a modern concept of social democracy."
He stressed the importance of Labour questioning the government's stance on Brexit.
"We have to say: the government's got a mandate to negotiate Brexit, but we're going to hold them to account that it's not going to damage jobs, that it's not going to damage the economy."
Blair went on to highlight how ultra-leftist politics never helped Labour in its bid for power in the past.
He pointed out that what "cratered" the Labour Party at the end of the 1970s was in fact the apparent ultra-left takeover.
While arguing that Labour "has only ever won when it has been at the cutting edge of modernity," the former PM accused the current leadership of lacking a grasp of the ever-evolving technology of the 21st century.
"You've got to develop a new progressive agenda for today's world," he said.
"The next generation of technology, artificial intelligence, automation, big data, it's going to transform the workplace.
"What's our answer to it? We don't have an answer to that question, we're nowhere."
The ex-Labour leader's remarks come as a YouGov poll reveals Corbyn has a net approval rating of -44 percent, worse than Conservative PM Theresa May, Liberal Democrat leader Tim Farron and even UKIP leader Paul Nuttall.
Blair made headlines in February after accusing the "debilitated" Labour Party under Corbyn of being responsible for Brexit.
Speaking for the first time since the EU referendum, Blair said those who voted Remain should "rise up" and oppose Brexit as their vote was misinformed.
"The people voted without knowledge of the true terms of Brexit. As these terms become clear, it is their right to change their mind," he said at an Open Britain speech in the City of London.
"Our mission is to persuade them to do so."