Saudi General dodges citizen's arrest in London over Yemen atrocities (VIDEO)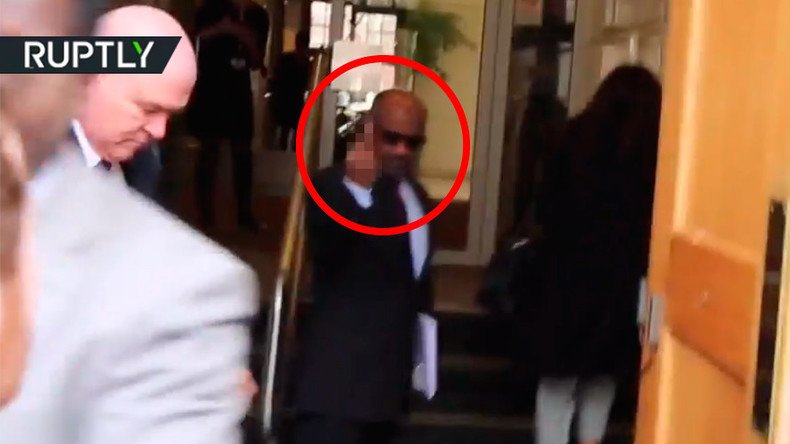 Saudi military spokesperson Brigadier General Ahmed Asiri narrowly avoided an attempted citizen's arrest in London on Thursday.
Footage shows activist Sam Walton attempting the arrest, claiming Asiri is a war criminal responsible for atrocities in the Yemeni conflict.
Asiri's bodyguards blocked the attempted arrest and Walton can be heard saying "You're interrupting a citizen's arrest" as Asiri disappears into the building where he was due to appear at a think-tank forum.
(COURTESY: RT's RUPTLY video agency, NO RE-UPLOAD, NO REUSE - FOR LICENSING, PLEASE, CONTACT http://ruptly.tv )
As Asiri is bundled in the door, he is hit in the back with what appears to be an egg.
In a statement following the incident, Walton said Asiri was the "chief apologist for the war crimes in Yemen," claiming he was directly involved in war crimes in the country.
"Why are we allowing this war criminal to wander around the British streets when we know everyone's condemned the war crimes in Yemen," he said.
Asiri is a spokesperson for the Saudi-led coalition that has been fighting Houthi rebels in Yemen since 2015. The Saudi-led coalition has been accused of killing hundreds of civilians in the process and leaving millions facing acute food shortages.
READ MORE: Saudi-led strikes in Yemen may amount to war crimes, arms sales to Riyadh should stop – HRW to RT
The invasion, aimed at restoring ousted President Abd Rabbuh Mansour Hadi to power, has claimed the lives of at least 10,000 civilians, according to UN estimates.
The majority of them perished in Saudi-led coalition air strikes, which hit civilian sites such as hospitals, schools and markets. Millions of people are suffering from ever-worsening hunger due to aerial and naval blockades.
READ MORE: UN 'estimates' death toll in Yemen war surpassed 10,000
You can share this story on social media: