May accused of using EU security & intel as Brexit 'bargaining chip'
Published time: 30 Mar, 2017 10:54
Edited time: 31 Mar, 2017 12:02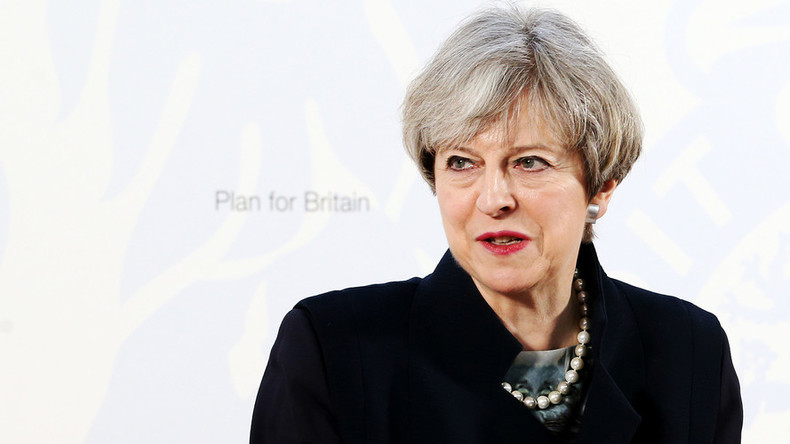 Prime Minister Theresa May has faced a fierce backlash after suggesting Britain could stop collaborating with the EU on security if an all-inclusive trade deal fails to materialize.
May has been accused of using people's safety as a "bargaining chip" in negotiations, which kicked off on Wednesday after she triggered Article 50.
In a letter handed to the President of the EU Council Donald Tusk by the UK's ambassador to the EU Tim Barron, May stressed the UK's primary intent is to maintain a "deep and special partnership" EU members.
However, the letter's positive vibes soon took a more threatening tone.
"In security terms, a failure to reach agreement would mean our cooperation in the fight against crime and terrorism would be weakened," the PM said.
The European Parliament's Brexit negotiator Guy Verhofstadt told MEPs it is unacceptable for the UK to use its strength in intelligence and security services as leverage to secure a good trade deal from EU negotiations.
When asked if he thought May's suggestion amounted to blackmail, Verhofstadt said: "I tried to be a gentleman towards a lady, so I didn't even use or think about the use of the word blackmail.
"I think the security of our citizens is far too important to start a trade-off of one and the other," he said.
"Both are absolutely necessary in the future partnership without bargaining this one against the other."
May shrugged off accusations in the House Commons of using security cooperation as a "bargaining chip" to obtain a good deal for the UK.
"We will not be trading the security of our country, but we have a relationship with the EU," she said.
"There are certain elements of the EU, in justice and home affairs, of which we are currently members and of which, on leaving the EU, we would not be members."
Downing Street also released a statement saying the PM was merely making "a simple statement of fact" that the UK divorcing the EU comes with the risk of losing any existing arrangements on security cooperation.
According to the Times, Shadow Home Secretary Yvette Cooper warned the PM that withdrawing security collaboration would be an "act of self-harm" and warned against walking out of the EU without a security deal, as the UK's "public safety" relies on it.
Brexit Secretary David Davis stood up for the PM, insisting she had not inferred the UK would withdraw its cooperation if it failed to reach a trade deal with the EU.
"What the prime minister was saying was that if we have no deal, and we want a deal, it's bad for both of us," he told BBC Radio 4.
"If we don't have a deal, what we are going to lose is the current arrangement on justice and home affairs."
Home Secretary Amber Rudd, however, said the UK could remove its intelligence-sharing information from Europol databases, Europe's major crime-fighting agency.
"We are the largest contributor to Europol, so if we left ... then we would take our information — this is in the legislation — with us," she said, according to the Times.
"European partners want us to keep our information in there because we keep other European countries safe."
Downing Street dismissed such claims saying Britain would carry on sharing its intelligence services whatever Brexit's outcome.