Scottish Parliament backs Nicola Sturgeon's demand for second independence referendum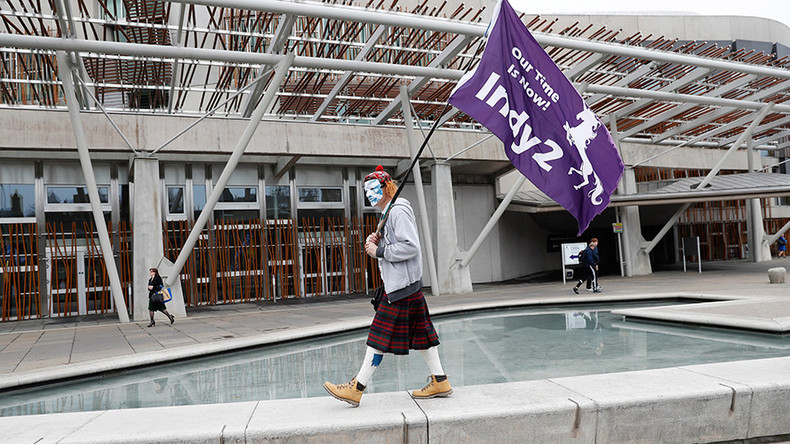 The Scottish Parliament has voted to back Nicola Sturgeon's request to seek new powers from London in order to trigger a second independence referendum.
The motion passed thanks to the Scottish Greens' support, and despite Labour, the Liberal Democrats and the Conservatives expressing opposition to what they called another "divisive" referendum campaign.
The Scottish first minister has called for a second independence vote to take place between Autumn 2018 and Spring 2019, though she will need Westminster's approval in order to actually implement her plans.
Holyrood has backed Sturgeon's motion, which urged MSPs to authorize the Scottish National Party (SNP) government to seek a Section 30 order from Westminster.
The order, which the first minister said she would request "later this week," is needed for Scotland to hold a legally-binding referendum.
In response to the debate, Sturgeon released a statement saying "today's vote must now be respected" and that it would be "utterly unsustainable" to try and oppose it.
The SNP leader said during the debate that the terms of independence would be set out before a vote is held.
She also claimed Scotland will do everything possible to guarantee the UK gets out of the EU with a good deal.
"I want the UK to get a good deal from these negotiations because whatever path Scotland decides to take in the future that is in our interests," Sturgeon said.
She did, however, say that if Prime Minister Theresa May carries on meeting Scotland's requests with opposition, she will take the next necessary steps once Parliament comes back from Easter recess.
Sturgeon ended her speech saying: "Scotland's future should be in Scotland's hands."
But Scottish Secretary David Mundell seems to have hardened Westminster's opposition to a second referendum as he said the government would not be discussing any independence vote with the Scottish leadership until after Brexit.
"We won't be entering into any negotiations [with the Scottish government] at all until the Brexit process is complete," he said in an interview to the BBC.
Scottish Labour leader Kezia Dugdale said independence is "first, last and everything" for the first minister, and has urged the government not to pretend that the will of the SNP and the Scottish Greens party for a second referendum reflects that of the Scottish people, because "it does not."
She therefore said Labour would not be backing another "divisive" referendum.
Conservative leader Ruth Davidson also hit out at the proposal for a second vote, saying most people had no desire for another "divisive" referendum.
Sturgeon has claimed a referendum is necessary so that Scotland can decide for its own destiny, namely to stay in the union or divorce and become independent.
May, however, has clearly stated she will not be allowing another vote to take place before the two-year process to bring the UK out of the bloc has come to conclusion.
Meanwhile, people on social media have voiced their opinion on the #indyref2 debate.
Some members of the public back another independence referendum, saying the want their politics defined by "equality."
.@JohannLamont "I am not a nationalist and I will not have my politics defined by the constitution. It is defined by equality".#indyref2

— Kevin O'Donnell (@kevwodonnell) March 28, 2017
While others agreed that the SNP should move its focus from the independence pledge.
Another user asked the SNP to just accept the vote in 2014.
But there are also those who expressed support for #indyref2.
Can't believe what's happening, look at the big picture, independence is the only way to keep Scotland safe #indyref2

— Lorna McLaren (@meekmot) March 28, 2017
You can share this story on social media: