Live firing, GPS denial operations announced in Scotland as NATO launches one of largest war games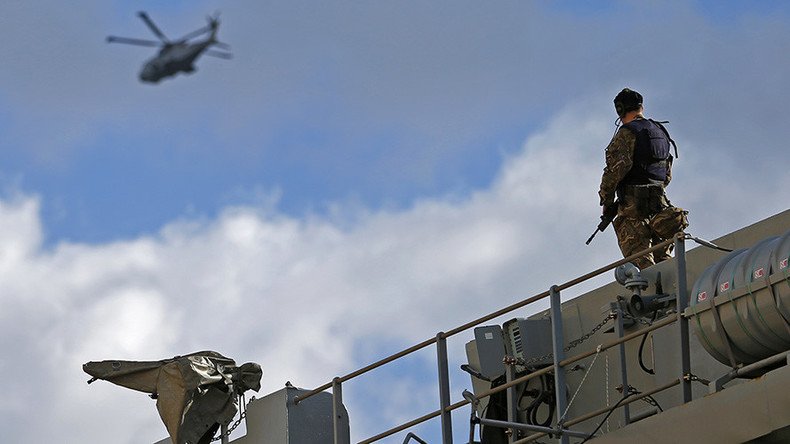 Massive military exercises with thousands of service personnel involved have kicked off near the coasts of Scotland. Several countries take part in NATO's multi-national Joint Warrior training, which this time includes the Royal Navy's first large scale cyber war games.
Thousands of military personnel from the UK, the US, France, Germany, Sweden, Estonia and other NATO allies have been deployed to Scotland, where exercise Joint Warrior began on Sunday, the British media reported.
All three branches of the UK military and other NATO allied forces take part in this year's exercise, billed as NATO's major biannual training.
"GPS denial operations" and live firing are expected to be performed during the war games, Scotland's Ross-shire journal reported, adding that "procedures are in place for unforeseen eventualities," according to a Royal Navy spokesperson.
A warning has been released for local marine users by the Royal Navy, which said that although "much of the activity occurs well offshore," civilians "should be aware of elements of the exercise which they may encounter."
While naval activity will take place off the north and west coasts of Scotland, European aircraft will also take to the air in the area. On land, several UK battle groups will be joined by troops from the US and Europe.
READ MORE: Over 100 NATO military vehicles arrive in Estonia as part of 'biggest deployment since Cold War'
For two weeks, the massive war games, said to be one of the largest military exercises in Europe, will see the troops practice what NATO calls defensive warfare, as well as intelligence gathering.
Electronic warfare training has also been announced to be part of Joint Warrior this time, with the Royal Navy to have its first large scale cyber war games. The exercise is said to protect NATO allies' warships and submarines against cyberattacks.
Meanwhile, on the continent NATO has also been on the move, with hundreds of personnel and military hardware from the UK and the US having arrived to Poland on Sunday.
Having traveled through the Czech Republic this weekend, a large military convoy of 125 pieces of military equipment and 550 British and American troops had reached Poland, TASS reported. The move is part of NATO's recent controversial plan to enhance its presence in eastern Europe and protect the region against alleged Russian aggression.
You can share this story on social media: