'No further attacks planned': UK counter-terror police say Westminster attacker 'acted alone'
Published time: 26 Mar, 2017 03:38
Edited time: 26 Mar, 2017 09:21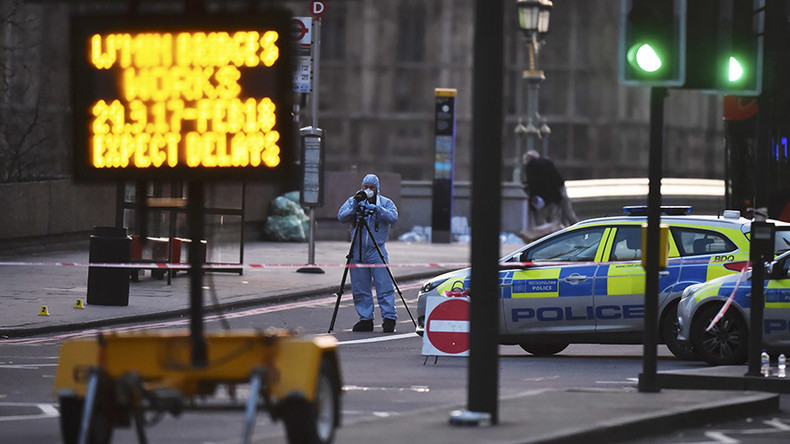 London police have found no evidence of terrorist plots or accomplices related to Khalid Masood, who killed four people on Westminster Bridge and stabbed a police officer to death outside Parliament on Wednesday. The attacker's motive "may have died with him," they say.
"We still believe that Masood acted alone on the day and there is no information or intelligence to suggest there are further attacks planned," Neil Basu, Deputy Assistant Commissioner and Senior National Coordinator for UK Counter Terrorism Policing, said in a statement issued late Saturday.
Basu acknowledged that while the detectives of the Metropolitan Police's Counter Terrorism Command are investigating "at pace" trying to "establish with absolute clarity why he did these unspeakable acts," the answer may not be found at all.
"We must all accept that there is a possibility we will never understand why he did this," Basu said.
While the assumption that Masood was a lone attacker has gained credence, the police are yet to establish whether his actions were a result of self-indoctrination or if there were any other people involved who might have incited him.
"If the latter proves to be the case, they will face justice," Basu said, praising the British public for supporting the police's efforts and commending the "early restraint" shown by the UK media in its coverage of the attack and its aftermath.
"Terrorists have tried to tear this City apart before and they have never succeeded," he said, adding that people who were attempting to exploit the tragedy to propel their own agenda to "stir up hate" are "a very small minority."
In course of the detailed investigation, police have managed to break down the attack literally into seconds, tracing every step taken by Masood as the incident unfolded.
According to their estimates, it took the 52-year old father-of-three just 82 seconds to ram the passersby on Westminster Bridge, crash his car into the rails of Parliament and stab the policemen before he was killed by a police officer inside the perimeter fence.
The police were alerted by a 999 call as the attack was in its 51st second, just after Masood rushed out of his car and headed toward the Houses of Parliament.
"Whilst the attack lasted only 82 seconds, it will remain in the memories of many forever. The thoughts of all those working on this investigation are with those so deeply affected," Basu said, urging possible acquaintances of Masood to reach out to police.
READ MORE: Terrorist threat higher in Europe than anywhere else except war zones – EUCOM chief
Steel structures, bollards and crash-proof barricades have been erected in Westminster following the attack. The constructions are aimed at hindering the movements of any potential further attackers.
In addition to this, police ranks have been beefed up with firearms officers, who have been stationed at checkpoints. The heightened security is expected to remain for at least few more days, according to Scotland Yard's counter-terrorism chief Mark Rowley.
"The police service will sustain an enhanced armed and unarmed presence over the next few days," he said Saturday.
Four people were killed and 50 injured in the attack, which triggered anti-terrorist raids in London and in the Birmingham area. A total of 11 people were initially detained as part of the investigation, but only one suspect, a 58-year-old man from Birmingham, was left in custody as of Saturday evening. He was detained on Thursday morning and faces charges under the Terrorism Act (TACT).
Nine others have been released unconditionally, while a 32-year old woman, arrested in Manchester, has been freed on bail.