British FM Boris Johnson to visit US to 'patch up ties' with Trump team following GCHQ spy row
Published time: 21 Mar, 2017 14:57
Edited time: 22 Mar, 2017 13:29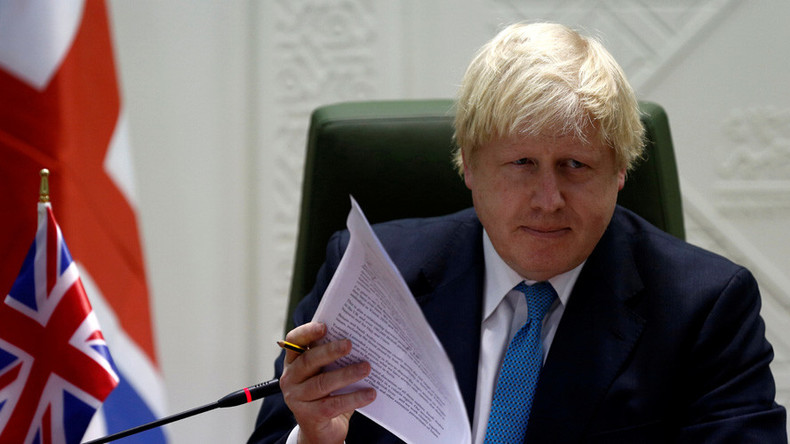 British Foreign Secretary Boris Johnson will meet with President Donald Trump's senior advisers in an effort to mend relations between the US and UK in the aftermath of damaging spying allegations.
Johnson will go to Washington later this week to meet with senior Republican leaders and key members of Trump's team, including his chief strategist, Steve Bannon, and senior adviser, Kellyanne Conway.
Johnson is also scheduled to meet his American counterpart, Secretary of State Rex Tillerson, during a summit of countries fighting Islamic State (IS, formerly ISIS/ISIL). It's also rumored that President Trump will attend, the Times reports.
The British foreign secretary will then travel to New York, where he will give a speech before the UN Security Council.
Johnson's visit comes after a spy scandal unexpectedly erupted between Washington and London.
Last week, White House Press Secretary Sean Spicer alleged that Britain's main cyber-intelligence agency, GCHQ, had tapped into Donald Trump's communications during the US presidential election campaign at the request of then-President Barack Obama.
GCHQ issued a rare public statement in response, dismissing the spying accusations as "nonsense."
"They are utterly ridiculous and should be ignored," the statement said.
Citing intelligence sources, the Telegraph later reported that the Trump Administration had issued a formal apology to the British government.
The Telegraph claimed that both Sean Spicer and Trump's National Security Adviser, General Herbert McMaster, had apologized for the remarks.
"The apology came direct from them," a source quoted by the Telegraph said.
However, Sean Spicer later denied that the White House had apologized for the spying accusations.
"I don't think we regret anything," Spicer told reporters on Friday.
President Trump himself has not backed off his contention that former President Barack Obama ordered that communications at the Trump Tower be hacked during the presidential campaign.
Does anybody really believe that Trump wasn't wiretapped or that it was done legally? What Judge Napolitano said is on point! @FoxNews

— Victorious Annie👅 (@Anncostanza1) 21 March 2017
At a joint press conference with Angela Merkel, he tried to joke with the German chancellor about them both being victims of Obama's spying.
"As far as wiretapping, I guess, by, you know, this past administration, at least we have something in common perhaps," he said.
Trump was referring to WikiLeaks files which revealed that the US' cyber-intelligence service, the NSA, had wiretapped the German chancellor's personal phone while Barack Obama was president.
However, Trump distanced himself from claims that it was GCHQ that had snooped on his communications, referring reporters back to the original source of the theory, conservative pundit Andrew Napolitano.
"All we did was quote a certain very talented legal mind who was the one responsible for saying that on television. I didn't make an opinion on it.
"That was a statement made by a very talented lawyer on Fox and so you shouldn't be talking to me, you should be talking to Fox, okay?" Donald Trump said.
Boris Johnson is expected to avoid any discussion of the matter during his official visit to the US this week, the BBC reports.
This is not the first time the British foreign secretary has found himself in hot water with the UK's closest ally.
Johnson previously came under fire for saying that President Obama had decided to remove the bust of Winston Churchill from the Oval Office because of the "part-Kenyan president's ancestral dislike of the British Empire."
Johnson, who was born in New York and lived there until he was five, renounced his US citizenship in 2016 after blasting an American law that required him to pay almost $50,000 in capital gains tax for selling his London home.