Marine's murder conviction reduced to manslaughter on diminished responsibility grounds
Published time: 15 Mar, 2017 13:21
Edited time: 16 Mar, 2017 09:48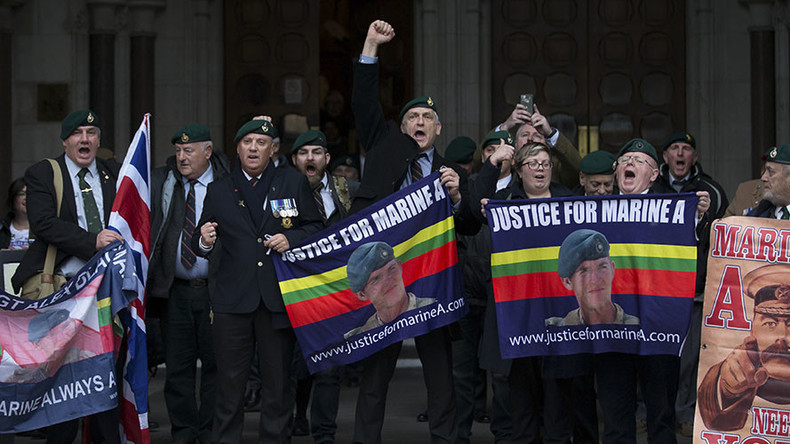 The murder conviction of Royal Marine Alexander Blackman, jailed for killing a wounded Afghan insurgent, has been reduced to manslaughter on appeal.
Speaking outside the Court of Appeal, Blackman's wife, Claire, thanked the legal team and said the family must now wait until the re-sentencing hearing to argue for a significant reduction. No date has been set.
She said the new ruling "much better reflects the circumstances that my husband found himself in during that terrible tour of Afghanistan."
Blackman was originally given 10 years for killing the insurgent with a shot to the chest in Helmand Province in 2011.
This was later reduced to eight years on appeal, on the grounds he was suffering from combat stress.
The latest appeal has seen the murder conviction quashed by a panel of five appeal judges and replaced with a charge of manslaughter on the grounds of diminished responsibility.
Judges found that Blackman had "developed a hatred for the Taliban and a desire for revenge" during the gruelling tour.
"Given his prior exemplary conduct, we have concluded that it was the combination of the stressors, the other matters to which we have referred and his adjustment disorder that substantially impaired his ability to form a rational judgment," the judges found.
Novelist Frederick Forsyth, who has been a vocal supporter of the jailed marine, told the Daily Mail the "fight is not over yet."
"We must free a man who has been put in jail who should never have been there. Then we must go after those people who wrongly and villainously put him there.
"There are things that have to be said about what was done to Sgt Blackman and how these people put him there and how they have got away with it, so far."
Blackman's lawyer, Jonathan Goldberg, said Claire Blackman has been "indefatigable" during the trials, and said his "old friend" Frederick Forsyth, who had involved him in the case, "knew a miscarriage of justice when he smelt one."
"He brought me in last summer and, when I read these papers, I was staggered at what I read."
The court heard evidence that an adjustment disorder due to the stresses of war had made Blackman lose self-control and added to the paranoia he had felt at the time of the killing.