Veterans & war widows are furious about British military's Iraq-Afghan memorial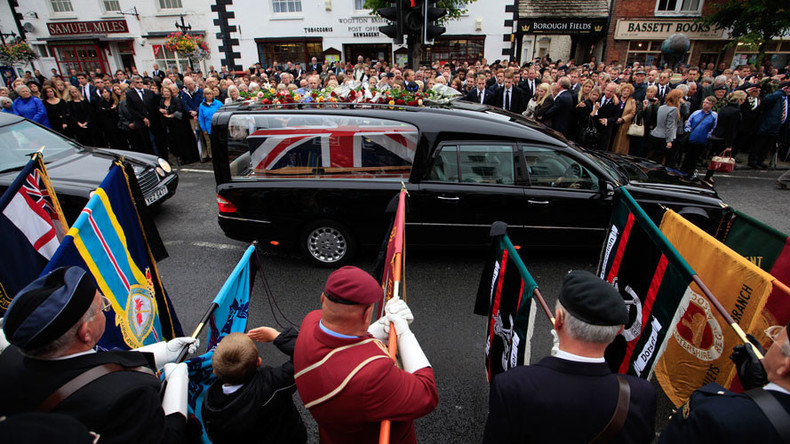 War veterans and widows have attacked the Ministry of Defence's (MoD) conduct over a new Iraq and Afghanistan memorial, unveiled on Thursday.
One war widow told RT she is outraged at the 'hypocritical' decision not to invite her and other bereaved relatives to the official opening, while veterans questioned the tone and veracity of the £1 million (US$1.22 million) monolith.
Her Majesty The Queen will unveil the Iraq and Afghanistan memorial today in London. Watch this video to find out more about it. pic.twitter.com/qlbwMaPEqx

— Ministry of Defence (@DefenceHQ) March 9, 2017
The Iraq Afghanistan Memorial was unveiled by the Queen and Prince Harry.
It was funded after a drive by the Rupert Murdoch-owned Sun newspaper and part-funded by global arms giant BAE Systems.
Veterans
RT asked veterans of both the 2003 Iraq War and the Afghanistan War whether they think the monument is fitting.Daniel Lenham, who served in the Royal Air Force (RAF), questioned the tone of the memorial, which focuses on the UK's delivery of aid, promotion of democracy and rebuilding work in Iraq.
"That isn't even a close reflection of my experience," he told RT. "I didn't see any benevolence. Just rockets fired at us in a place we were not welcome."
He said the memorial is about "shifting public opinion. It has nothing to do with remembrance. It is about altering our understanding of Iraq, so we look like the good guys."
Wayne Sharrocks served two tours in Afghanistan as a member of the Rifles and Special Forces Support Group (SFSG).
He said the humanitarian gloss on the memorial is not accurate.
"It seems like they are trying to make it shiny and rebrand the war," he said. "Like a polished version of what it was."
Asked about the involvement of the Sun newspaper and the global weapons manufacturer BAE Systems, Sharrocks said, "I don't think it is appropriate for an arms dealer to do war memorials, or even be involved."
"They've got no morals, they make money out of death, their business model is to kill," he said.
Forgotten widows
Wendy Rayner, whose husband was killed in Afghanistan in 2010, told RT she and other widows are outraged at the MoD's percieved "snub."
"To be honest they are a set of idiots. I would like a formal apology for their incompetence," she said.
Although the event was briefly mentioned last year at an event at the National Arboretum – a memorial to those killed in war – Rayner said she had heard nothing more about it until a few days ago.
The MoD has since rushed to invite those who have complained.
"Now they are trying to cover up, now all of a sudden they are inviting us all," she said, adding that the widows had asked for nothing and would have "paid their own way" if they had been told in advance.
On the dignitaries who were invited well in advance, she said it would have been a basic courtesy to give bereaved single parents fair warning.
"There are going to be a lot of people who sacrificed nothing. This is too little, too late," she said.
The MoD initially claimed there was only room for 2,500 people at the Victoria Embankment Gardens event and that they had to pick carefully to cover representatives of the various military charities.
They have since backtracked and invited all war widows.
At Horse Guards this morning as The Queen unveils The Iraq and Afghanistan Memorial. Her message to attendees in the order of service: pic.twitter.com/skIx6uivW2

— James Brookes (@james_elliott_) March 9, 2017
Rayner will not be attending given the late notice. Like other widows she is a now a busy single parent, she said.
She and others have instead planned to stage their own, more personal visit to the monument in May when they come to London to attend a larger gathering of families who had lost their loved ones in the wars.