Registering EU citizens in Britain will be biggest 'bureaucratic nightmare' since WWII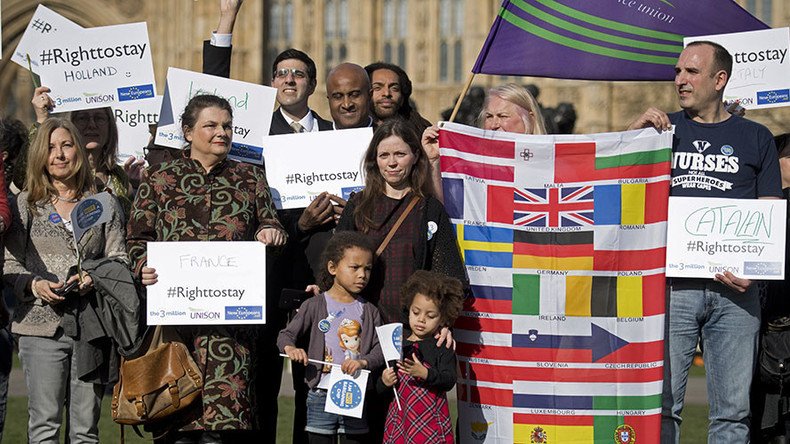 The Home Office faces its biggest bureaucratic task since World War II when millions of EU citizens in the UK seek documentation to guarantee their right to live in the country as it prepares to leave the union.
According to experts, Britain could face a "bureaucratic nightmare" ahead of the government's cut-off day, after which EU citizens will no longer be entitled to stay permanently.
Although some suggest the cut-off date may be the same as when Article 50 is triggered, the government is yet to announce exactly when that will be.
Article 50 is the bill allowing Prime Minister Theresa May to kick-start the official process for the UK to leave the EU, and is likely to be enacted sometime this month.
Home Secretary Amber Rudd previously said the current 3.2 million EU citizens living in the UK would need to have "some documentation" so that they could be distinguished from those arriving after Brexit.
Jonathan Portes, professor of economics and public policy at King's College London, told the Times: "It is going to be a bureaucratic nightmare.
"The Home Office is understaffed: there is simply no way that it could examine, case by case, the documentation of up to 3 million people," Portes said.
"There would be huge delays. In the end, yes we can do it if we are prepared for money and resources to be allocated."
Portes also warned that the overwhelming amount of work for the Home Office could lead to mistakes in granting or denying stay to EU citizens.
"It will be massive and we will make mistakes both in giving people we would rather not have the right to stay here and denying residence to people we would like to be here," the professor said.
The registering process would be the largest Britain has undertaken since identity cards were issued back in 1939.
The government currently demands EU citizens fill in an 85-page application at a cost of £65 (US$79) in order for them to receive a permanent residence certificate.
The current application process calls on Europeans seeking to live in the UK to prove that they have been living and working in the country for the past five years. They also need to hand in the dates of when they have left and returned to the country.
This may prove tricky, however, as dates are no longer visible on passports because of Europe's free movement policy.
Registering is also hard for EU migrants who lack the paperwork required by the Home Office.
Migrants who have been unemployed must also prove that they have acquired health insurance – but such a requirement has only recently come into force.
More than 130,000 EU citizens applied for residence in the UK in the six months following the EU referendum.
There has also been a staggering spike in the number of residence certificates issued, going from 18,064 in 2015 to 65,195 last year.
Sunder Katwala, director of think tank British Future, said: "The process of granting immigration status to 3 million EU nationals living in the UK will be the single biggest administrative task the Home Office has ever faced."
The Home Office is being called on to use alternative ways to register migrants, such as using income tax, national insurance and tax credit payments against government records to prove their legitimacy.
You can share this story on social media: