Iraq gets £10bn loan from Britain… but only to pay back UK firms
Published time: 6 Mar, 2017 16:42
Edited time: 8 Mar, 2017 14:16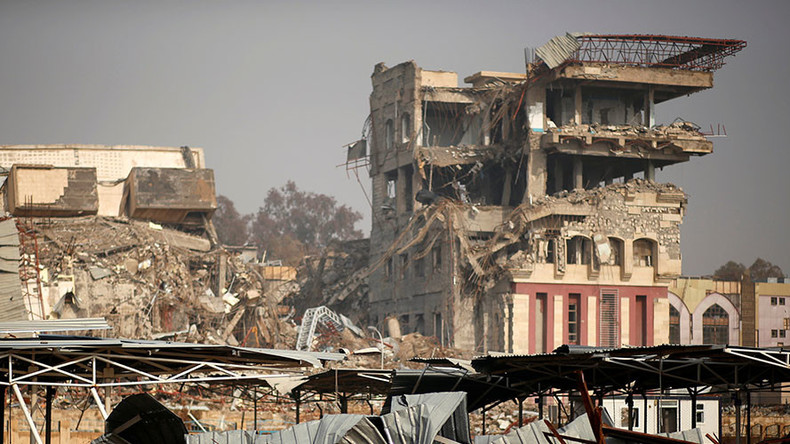 Britain and Iraq have negotiated a £10 billion (US$12.25 billion) loan for reconstructing and operating key utilities, but the cash can only be used to pay UK firms.
The deal will see British companies service and repair vital sectors like sewage, water, healthcare, electricity and transport in the war-torn country.
The move comes 14 years after the US-led war, in which Britain was a major participant, devastated large parts of Iraq's infrastructure, eventually helping to create the conditions for the formation of Islamic State (IS, formerly ISIS/ISIL).
"This loan is exclusively allocated to British companies," Iraqi Acting Finance Minister Abdul Razzak al-Essa told journalists at the official signing.
UK forces are currently back in the country with special forces reportedly taking part in the attempt to liberate the IS-held northern city of Mosul.
"For the United Kingdom this is a further evidence of the bilateral support that we are giving and continue to give to Iraq, to help Iraq move forward to recover from the ravages of Daesh [Islamic State]," British ambassador Frank Baker told Reuters.
The UK's willingness to clean up post-war Iraq does not appear to extend to the toxic fallout of particular weapons.
Writing in the Ecologist in July 2016, Doug Weir, who is coordinator of the International Coalition to Ban Uranium Weapons (ICBUW), said that hidden within Britain's Chilcot report into the conflict was a previously classified military document setting out the UK's rejection of any duty to cleanse Iraq of depleted uranium (DU) or unexploded ordnance (UXO).
"In it, the clearance of unexploded ordnance and DU is considered and the Ministry of Defence [MoD] argues that it has... no long-term legal responsibility to clean up DU from Iraq," Weir writes.
"Instead it proposes that surface lying fragments of DU only be removed on 'an opportunity basis' - i.e. if they come across them in the course of other operations."
DU, which is highly radioactive, was used in some of the armor-piercing ammunition fired by some UK tanks and aircraft during the invasion of Iraq.
Its use has been linked to birth deformities and stillbirths in Iraqi cities like Fallujah, where it was used during warfighting.